Apple-Honey Upside Down Cake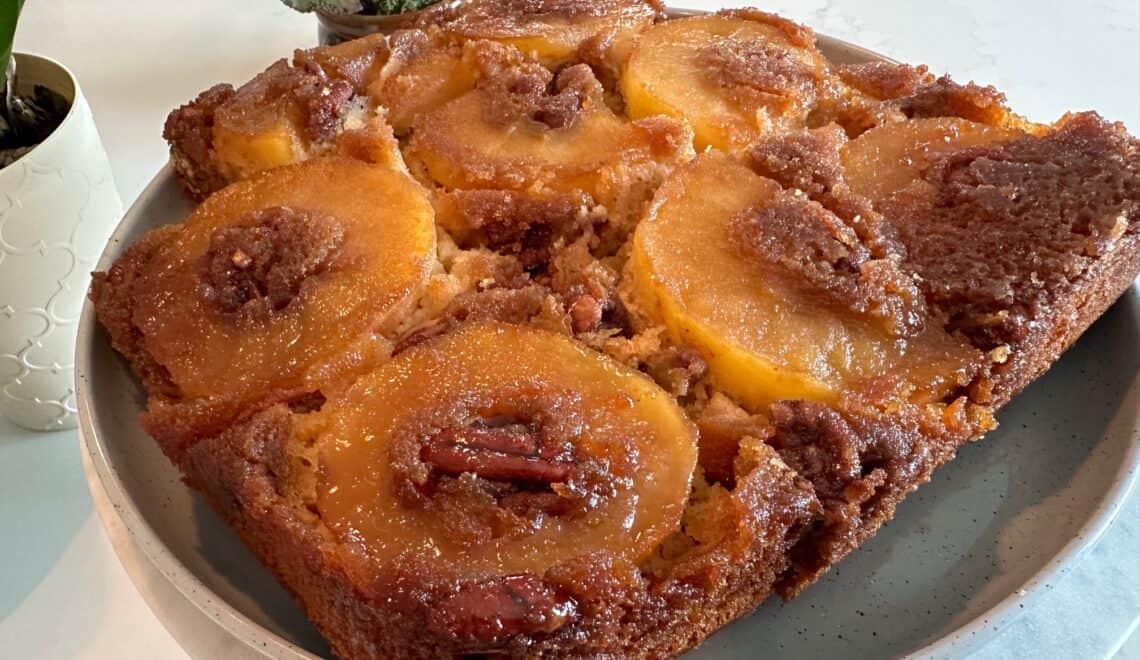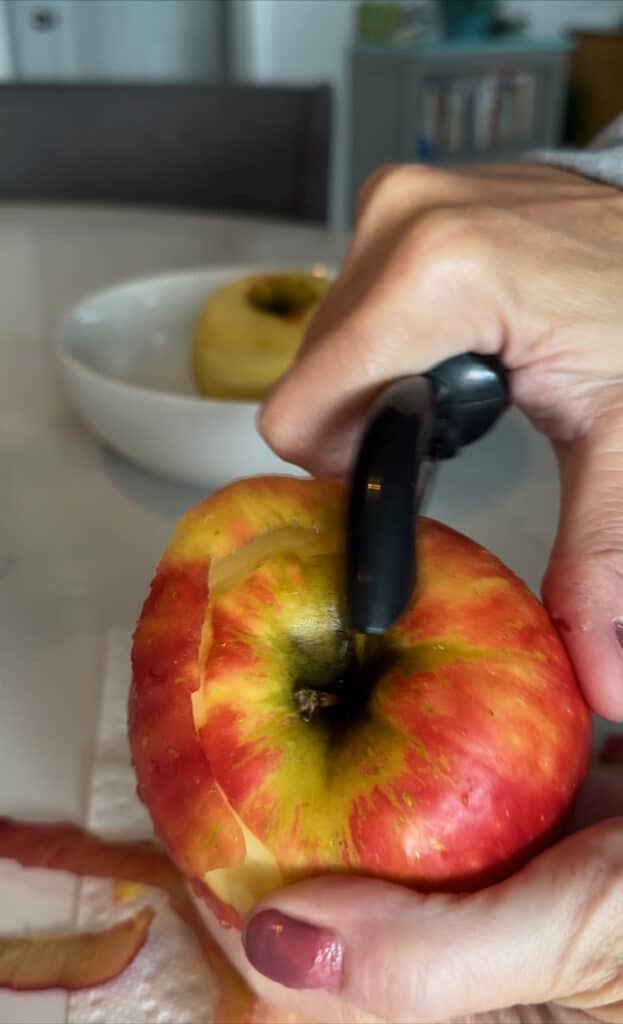 Thanksgiving is right around the corner, and I have been testing recipes galore that are worthy of showcasing at the turkey day table. Apple-based desserts always have a special place in my heart at this time of year and I always try to incorporate at least one dessert that features this juicy, robust fruit as it revels in its prime picking season.
One of my favorite elements drawing me to a good apple dessert is its ability to transform the sugar in the apples into sweet caramelization, and this recipe gives all those feels. This is a fluffy and flavorful cake, perched below the crunchy, chewy heft of a sugary glaze, the hearty crunch of pecans, and soft, sweet, artfully placed apples. Think pineapple upside down cake, with a fall twist.
Aside from being an absolutely delicious dessert, this one is also a real showstopper. This cake is inverted once complete, hence the upside down label, so the bottom layers of gorgeous apple and pecans glistening in a caramelized, buttery brown sugar are on full display for guests, painting an ever so beautiful picture on the serving platter.
Of all the apple cake recipes that I have tried, this is one of the more impressive options based on wow factor and it is also one of the easiest to prepare. It calls for peeling and coring, but compared to many of the other apple desserts out there, only two apples are required and the slicing process is fairly easy.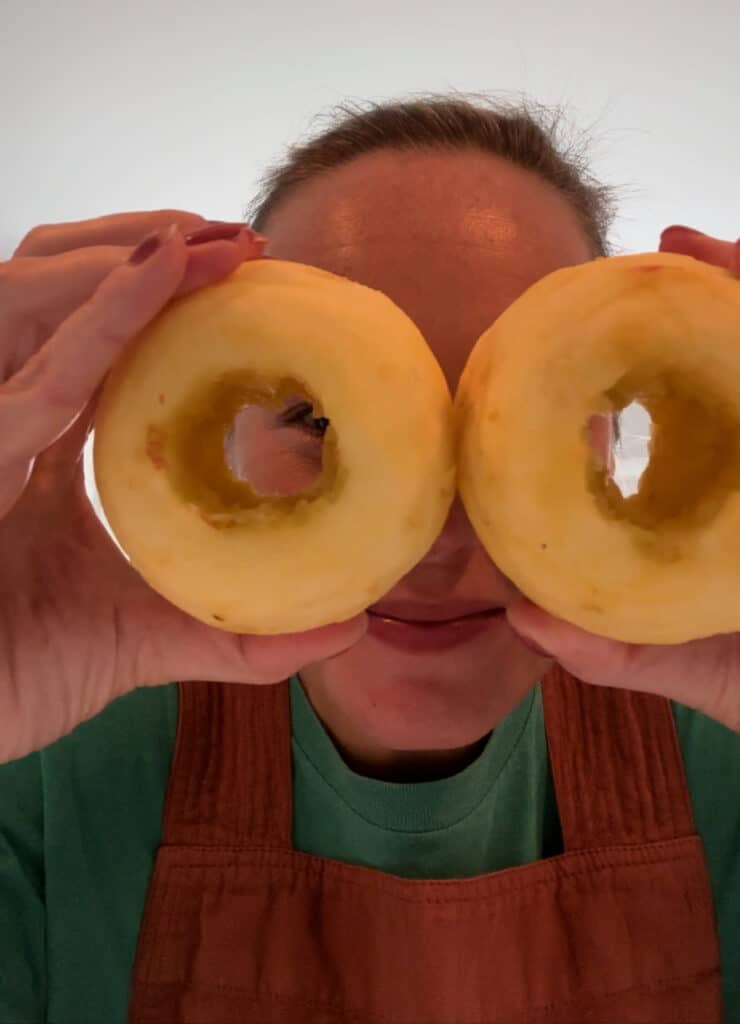 With a traditional apple pie, you are peeling and slicing for what seems like days to fill the pie, so the prep time is quite labor intensive. I am not knocking an apple pie, because it is an all-time classic, but if you have a big menu to prep and you are looking for an alternate that will save you some time, this cake is incredibly easy to prep and assemble and it takes a lot less time to bake.
I have to say that this might be the softest, most tender cake I have ever tried. It is absolutely delicious. Be warned, it is on the sweeter side from all of the honey and sugar, if that isn't really your thing, but the flavor of the honey in the cake is a standout. This cake is utterly delicious.
This upside down cake also requires a bit of rest time to set (30 minutes), so it can easily bake while you are eating your Thanksgiving meal and then popped out of the oven to rest and cool while you relax and enjoy the company of your guests.
Recipe Notes: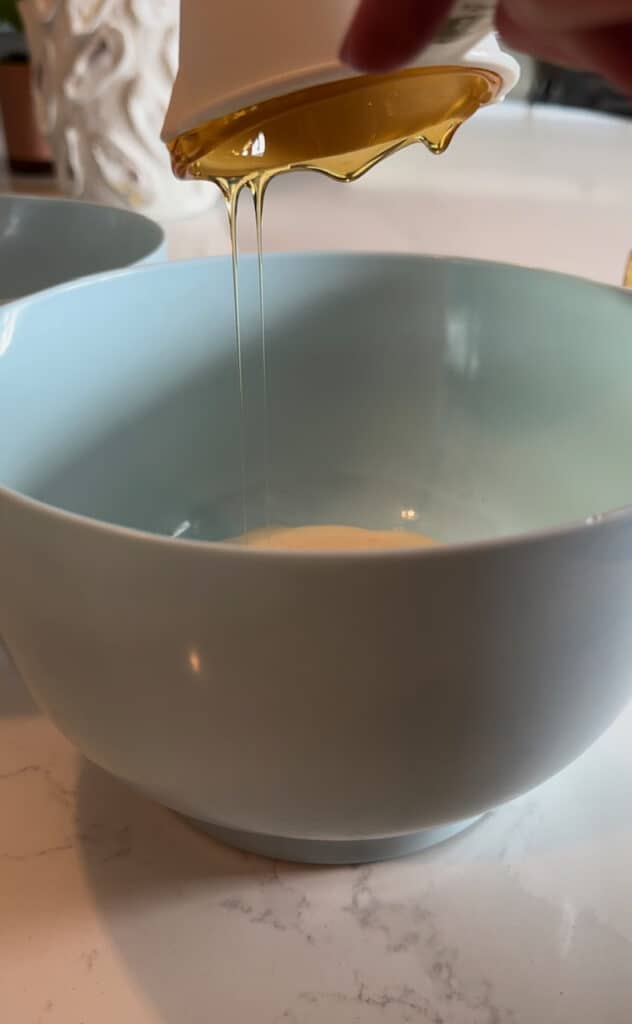 Just a few notes for you based on how I made mine. As with any recipe, sweet or savory, use your creativity where you can and always try to use ingredients on hand that you may have. I used a mix of unsalted butter and salted, as it was what I had ready to use in my fridge.
I also substituted plain pecans for candied cinnamon sugar pecans that my Mom made for me (one of my favorite sweet treats), so I used those to add a little extra pizzazz to the finished flavor. To become a better and more confident baker or cook, you can stray a bit and think outside of the box, as long as you try to stay a bit in the same parameters with the measurements called for in the recipe.
As for the apples, you can really use any apple that you like! I had Honeycrisp apples in my fridge because I devour them at this time of year. Use what appeals to you and what you have handy. I do tend to enjoy using a sweeter apple for this kind of recipe. As I mentioned earlier, the sugar can help with caramelization, so that is how I tend to lean for this recipe in particular. It would taste delicious with a more tart apple as well.
Keep in mind when selecting that the diameter of the apple will help with nestling all nine rings into place. My apple was on the larger side, so I had to cut a couple of the rings in half to fit them in properly in the base of the pan. It tastes just as good either way, but if you are a perfectionist on the final design of the cake, you will want to be aware when selecting your apples.
I also recommend using a good local honey for this cake. It will have a better, richer and fresher flavor, and has added health benefits for your immune system in protecting against local allergens. Fresh honey is always unmatched in flavor and will make a difference. I picked mine up from local T's Bees, of Savannah, GA the Farmer's Market here in Bluffton and it is out of this world delicious for pastries and teas.
I hope you enjoy, and please let me know about your results in the comments!
---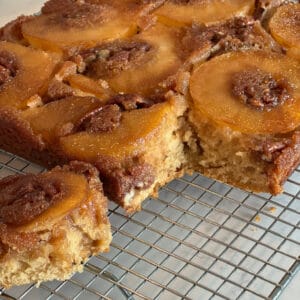 Apple-Honey Upside Down Cake
This tender, fluffy cake, topped with the fresh crunch of juicy apples, the caramelized chew of honey and the crunch of hearty pecans, gives a fall take on the classic pineapple upside down cake. It is the perfect centerpiece for any Thanksgiving table.
Equipment
Large & Medium Mixing Bowls

Rubber Spatula

Hand Mixer

Pearing Knife

apple peeler

apple coring tool

9-inch Square Baking Pan
Ingredients
1½

cups

all-purpose flour

2

tsp

baking powder

¼

tsp

salt

¾

cup

milk

½

cup

honey

1

tsp

vanilla extract

1/2

cup

butter, softened

one stick

1

cup

packed brown sugar

2

medium apples, cored/sliced crosswise-½ inch rings

½

cup

pecan halves

2

eggs, room temperature
Instructions
Preheat oven to 350℉. In a medium bowl, stir together dry ingredients: flour, baking powder and salt.

In a separate bowl, whisk together the wet ingredients: milk, honey and vanilla.

Place ¼ cup of butter in the 9-inch square baking pan. Place pan in oven briefly just until the butter melts and remove from oven.

Stir ½ cup of brown sugar into baking pan. Next, evenly arrange nine apple slices and the pecan halves in the pan. (Remember the bottom of the pan will be the top of the cake once done.)

In a large bowl, beat the remaining ¼ cup soft butter with mixer on medium to high for 30 seconds, then gradually add the remaining ½ cup of brown sugar. Beat until light and fluffy. Add in the eggs and beat the mixture for one minute.

Next, add flour mixture and milk mixture alternately until all are incorporated, beating on low after each addition just until combined (don't overmix).

Carefully spread the batter over the apple slices in the prepared pan.

Bake cake for 35-40 minutes, or until a toothpick can be inserted and come out clean. Cool in the pan on a wire rack for five minutes. Loosen the sides of the cake and invert it onto a serving plate. Cool for 30 minutes and serve warm.