Autumn Apple Bundt Cake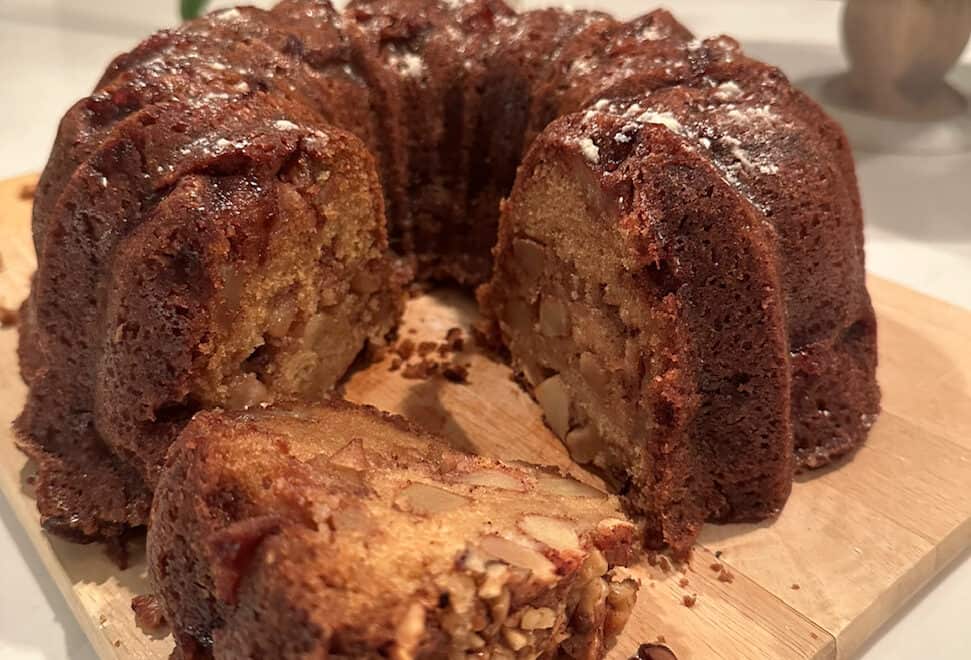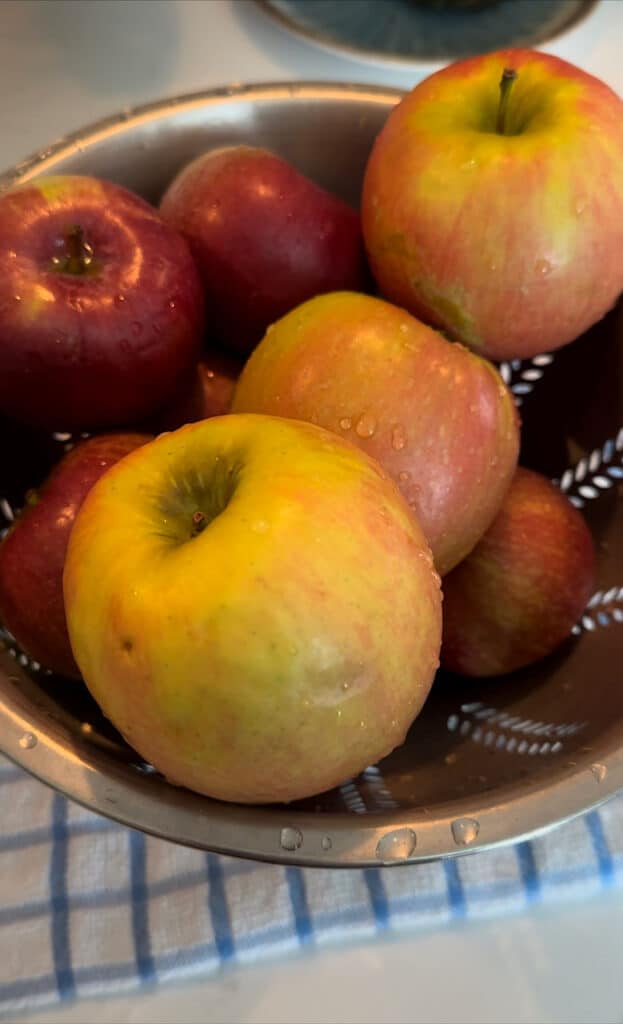 Ahhh the beginning of fall. That magical time of year when the air feels crisper, giving us that first little shiver in the morning to tell us that the end of summer is drawing near. The leaves begin to turn and shimmy from the trees to the ground and we have that first inkling to reach for an extra sweater to ease the chill in our bones.
It brings me a thrilling sensation. I am a lover of baking. This is the time of year when all things come to life in this realm of my life. Warm, hearty pies, spongy cakes to accompany an evening tea. There is something that is so lovely and comforting about it all.
The stars of the autumn show when it comes to the baking game are obvi pumpkin and apple, accompanied by their spicy cousins, cinnamon and nutmeg. Naturally, as soon as the first cool breeze hits me, I am off and running to the store for my first batch of fresh, seasonal apples. This is their prime time to shine.
Jump to Recipe
This year in particular, I have been all about new experiences and challenges in the kitchen. I have been systematically attacking recipes that have intimidated me for years. I am using all of the equipment that I thought to be too complicated and learning the techniques that I have admired from afar for ages and have been too scared to try. What I have found is that once you hit your groove with baking, the walls tumble down and each new task builds on the last. The process becomes much easier and more fluid.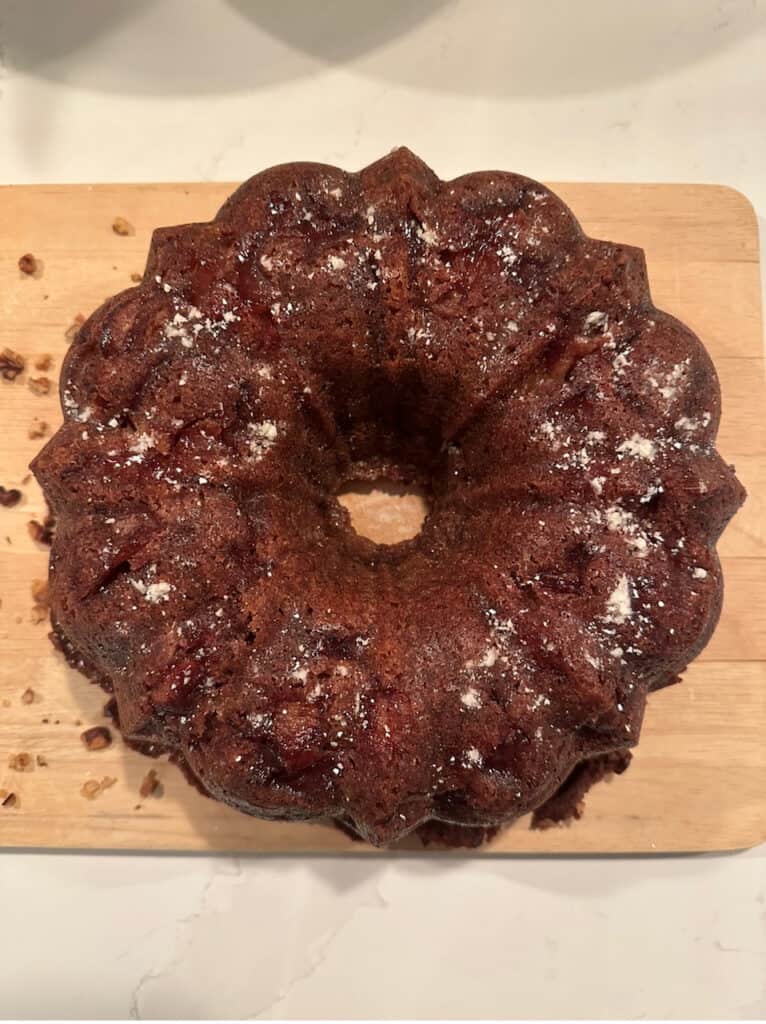 I still have many techniques and tricky recipes ahead of me that I wish to tackle and share, but as for fall desserts, my goal has been to test out new recipes using apple and pumpkin that I haven't tried before. I am a bona fide cookbook hoarder, and recently have been thumbing through my stacks of books, looking for new projects. I recently stumbled across the recipe for 'Mom's Apple Cake' in the Smitten Kitchen Cookbook, by Deb Perelman.
I just love this cookbook, not only for the interesting recipes, but for the style of writing. It is relatable and darned funny. Perelman endearingly recalls the background and relevance of her recipes on a personal level. She explains how she dreamed them up, or how she has loved the lifelong recipes she shares from her family and upbringing.
I just love that the author is so meticulous about methodically testing her recipes and takes the time to explain the results in detail in her writing. It allows burgeoning bakers, such as myself, to better understand the process and learn from her missteps in the kitchen. It helps to make sense of it all.
I am posting the recipe below straight from the author's site, to give credit to a family recipe where it is due. I made a few small adjustments to my own, based on my liking. As a semi-novice baker, I do not yet have a ring pan, but I had a good sized Bundt pan that matched the size the recipe called for, so Bundt it was! You will definitely need a deep 10-inch pan, as this recipe fills allll the way to the tippy top.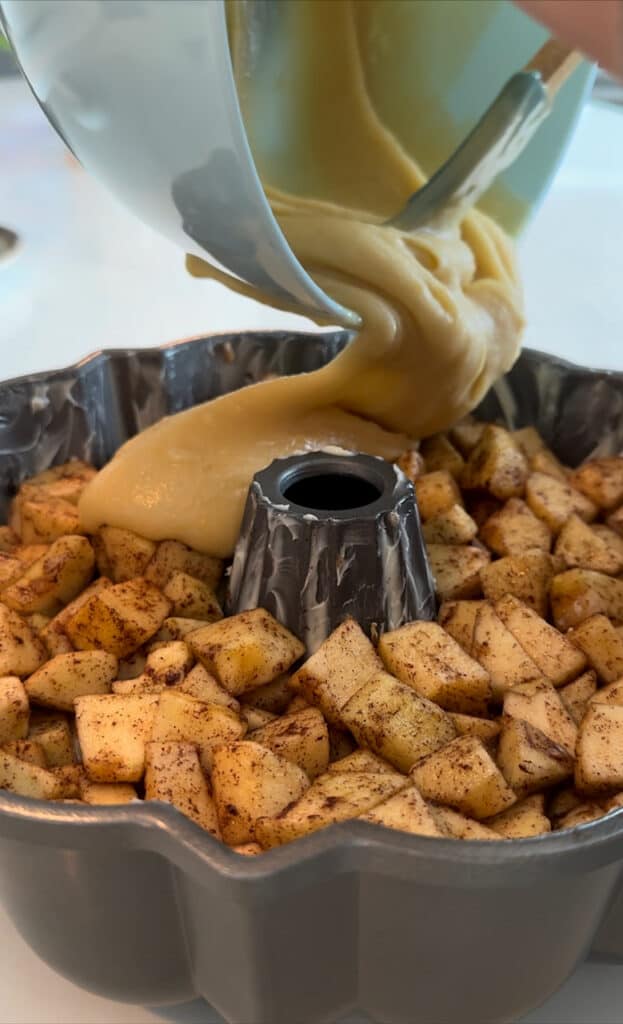 I also forgot the step of stirring in the walnuts and didn't realize it until I had completed layering the cake and apples, having filled the pan to the top. I ended up sprinkling the nuts over the top of the final layer of apples up top. It worked out just fine, but I think it would have tasted more balanced had they been mixed in. My point being here, don't panic if you overlook a small step. Part of learning to be a better baker for me has been to roll with the mistakes and shift gears.
Finally, I will tell you that I generously greased my pan with real softened butter, which I think made a huge difference in sliding the final product smoothly from the pan, and it also added a nice extra rich flavor and crisp to the top edges, so I highly recommend butter over cooking spray.
On a scale of 1-10, one being easy and ten being hardest, I would say that this recipe is a solid six. The techniques were truly simple to work through, but this is a highly time consuming process, as is any recipe that requires apple peeling, really. Being my first go-round, this took me a good two hours to complete, though I am sure it gets easier the more you make it.
There are a lot of steps and moving parts to this one. I found that it was made much easier by measuring the ingredients and having them pre-portioned in bowls and ready to go, making it simple to flow and transition easily between steps without stopping to portion things on the fly. That is purely a personal preference though, so you do you!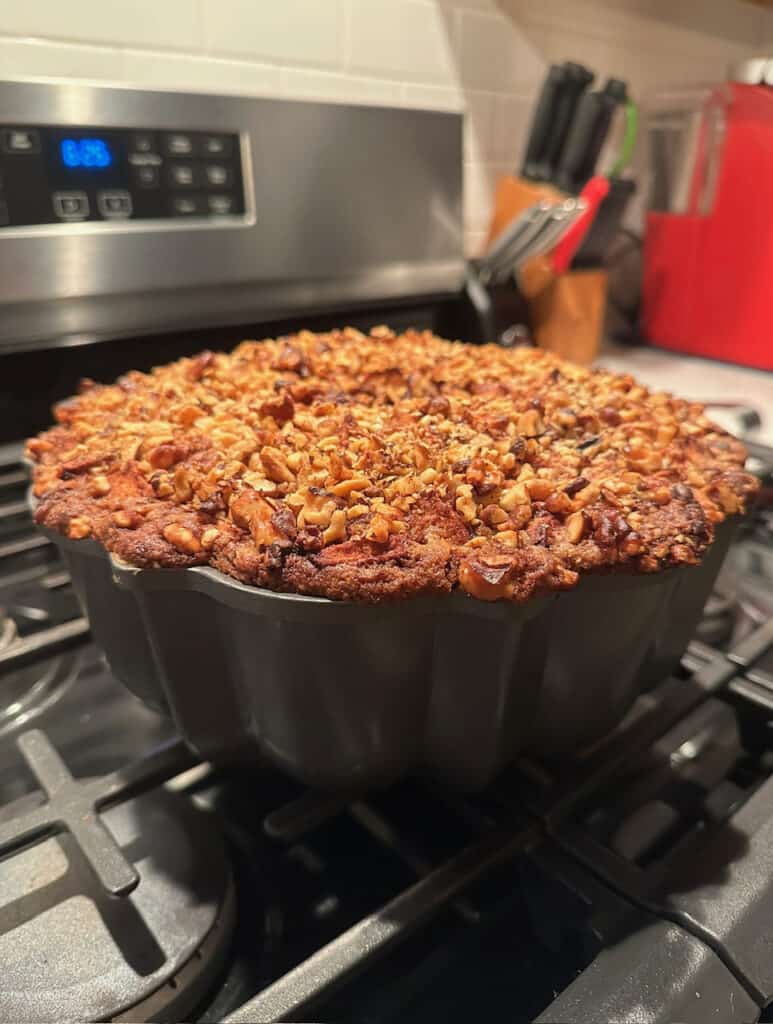 This recipe was delicious, all in all. After taking the first bite, my fella said, and I quote, "This is the best thing I have ever eaten," so I call it a success. This is a perfect cake to have on hand for company over the holidays and would make a truly stunning dessert for presenting on the Thanksgiving table, particularly if you use a decorative, autumn-themed Bundt pan.
The result is a cake that has a slightly spongy, dense texture with a slight custardy element to it. This is not a custard cake, but it has a very slight hint of this texture within. The cinnamon sugar flavor of the apples is like a warm hug, giving all of the fall feels. The caramelized sugar from the apples and the butter used to grease the pan work together to create a crunchy texture with a phenomenal chew and mouthfeel against the traditional cake texture and soft apples. Simply delicious.
If you give this recipe a try, please let me know your thoughts in the comments section, and be sure to check out the Smitten Kitchen site and cookbooks! Perelman is an amazing and informative teacher.
---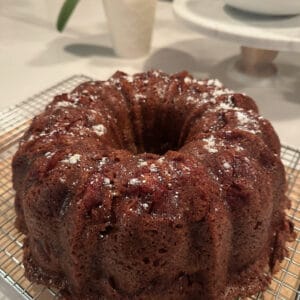 Autumn Apple Bundt Cake
A Smitten Kitchen recipe for Mom's Apple Cake, as tested by a novice baker. A generous portion of tender McIntosh apples, doused in cinnamon sugar nestled in an almost custardy, spongy cake.
Equipment
10-inch tube or Bundt pan

Mixing Bowls

measuring cups and spoons

apple peeler

pairing knife

cutting board

Whisk

apple coring tool

(optional)

cooling rack
Ingredients
Cake
6

apples

McIntosh Apples (2½ – 3 pounds)

1

tbsp

ground cinnamon

2

cups

(plus 5 tbsp) granulated sugar

2¾

cups

all-purpose flour

1

tbsp

baking powder

1

tsp

table salt

I used Morton's

1

cup

vegetable oil

¼

cup

orange juice

2½

tsp

vanilla extract

4

large eggs

1

cup

chopped walnuts

optional

Confectioners' sugar to finish

aka, powdered sugar
Instructions
Butter a 10-inch tube pan or Bundt pan, or coat with nonstick cooking spray.

Peel, core and chop the apples into ½-¾-inch chunks. Toss them with cinnamon and the scant 5 tablespoons granulated sugar, and set them aside.

Sift the flour, baking powder, and salt together in a large bowl. Set aside.

In a medium bowl, whisk together oil, orange juice, remaining two cups of granulated sugar, vanilla and eggs.

Stir the wet ingredients into the dry ones. Scrape down the sides of bowl to make sure all ingredients are evenly incorporated.

If you opt to use the walnuts, stir them into the mixed batter.

Pour half of the batter into the prepared/greased pan. Spread half of the apple chunks over the top of the batter.

Pour the remaining batter over the apples, then arrange the remaining apples over the top of the batter.

Bake on center rack for about 1½ hours, or until a tester (toothpick/skewer) comes out clean, then transfer to a rack to cool.

Cool completely before flipping cake out of pan and onto a serving platter. Dust with Confectioners' sugar and serve in slices.