Chicken Pot Hand Pies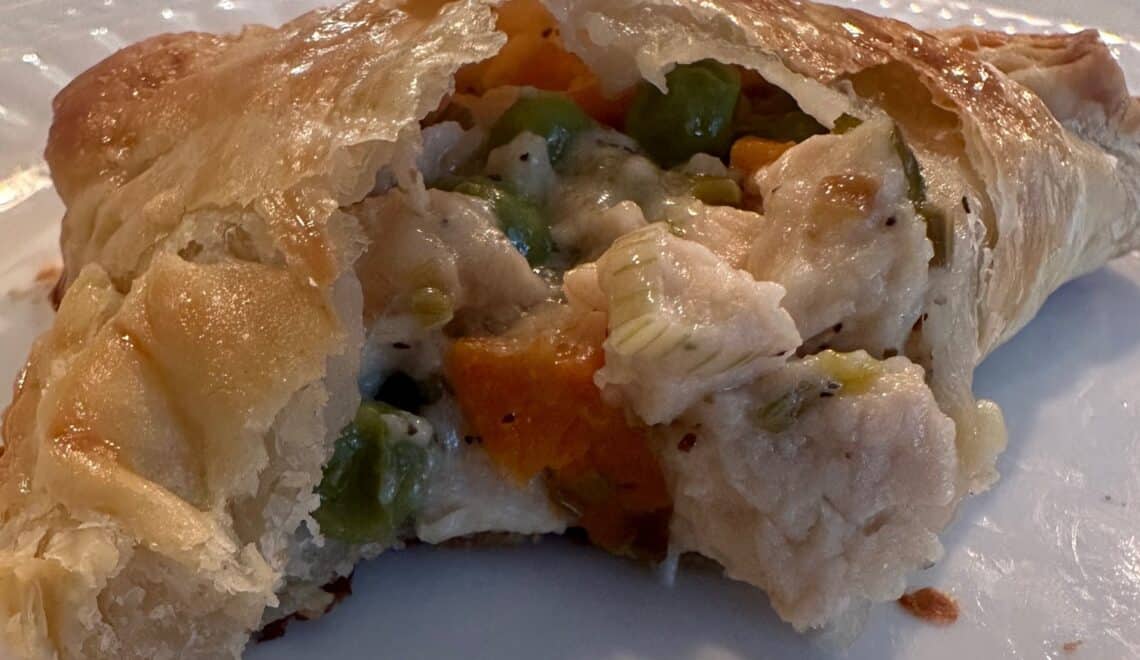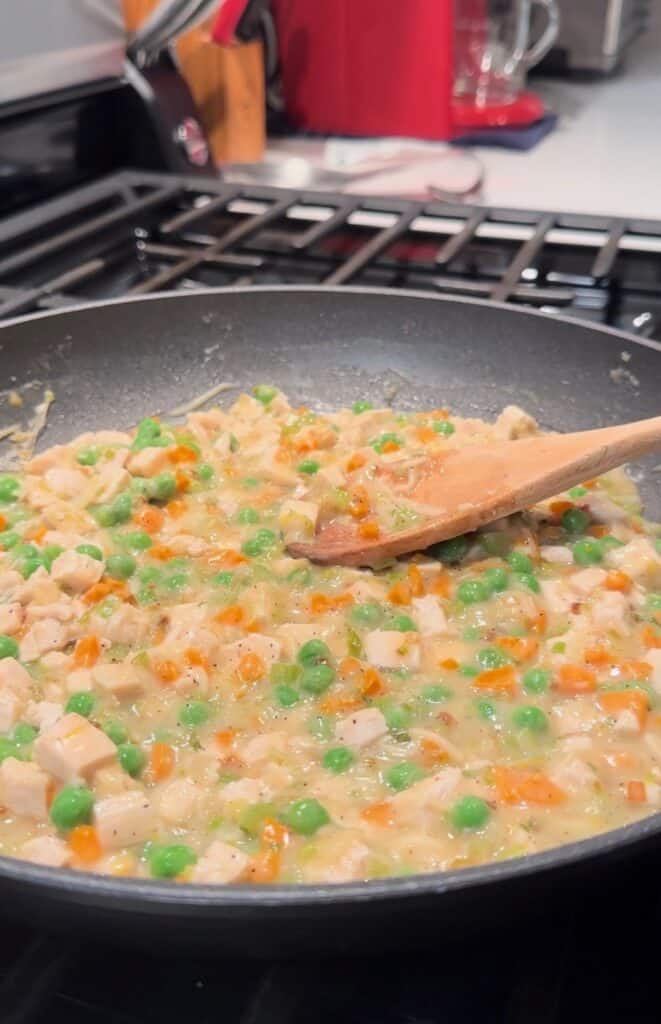 It is that glorious time of year when we feel a cold nip in the air, the leaves begin to turn and float to the ground, and we feel that irresistible urge to make warm foods ignite in our souls.
One of the prime cornerstones of southern cooking is creating warm, cozy comfort food, so cooking at this time of year just seems to come even more naturally. I have found that if the recipe seems like something your Grandma would have made by hand, it fits right in, here in the south.
A chicken pot pie definitely falls into the category of pure comfort. It is like a warm hug wrapped up in a puff pastry crust. Now…picture it…combining the comfort of pot pie in all of its warm, flaky goodness and making it…wait for it… portable! I don't know why a savory pot hand pie never crossed my mind, but when this recipe came together for me, it was a life changer.
Pot pie is what I would call a "real meal." It is hearty and contains all of the elements of a great comfort dish and balanced plate in one beautiful little container. We don't always have time to prepare and sit down to eat those home cooked meals on weeknights, and end up settling for junk food that is easy and within reach when we get home and we are tired. I am guilty of it too.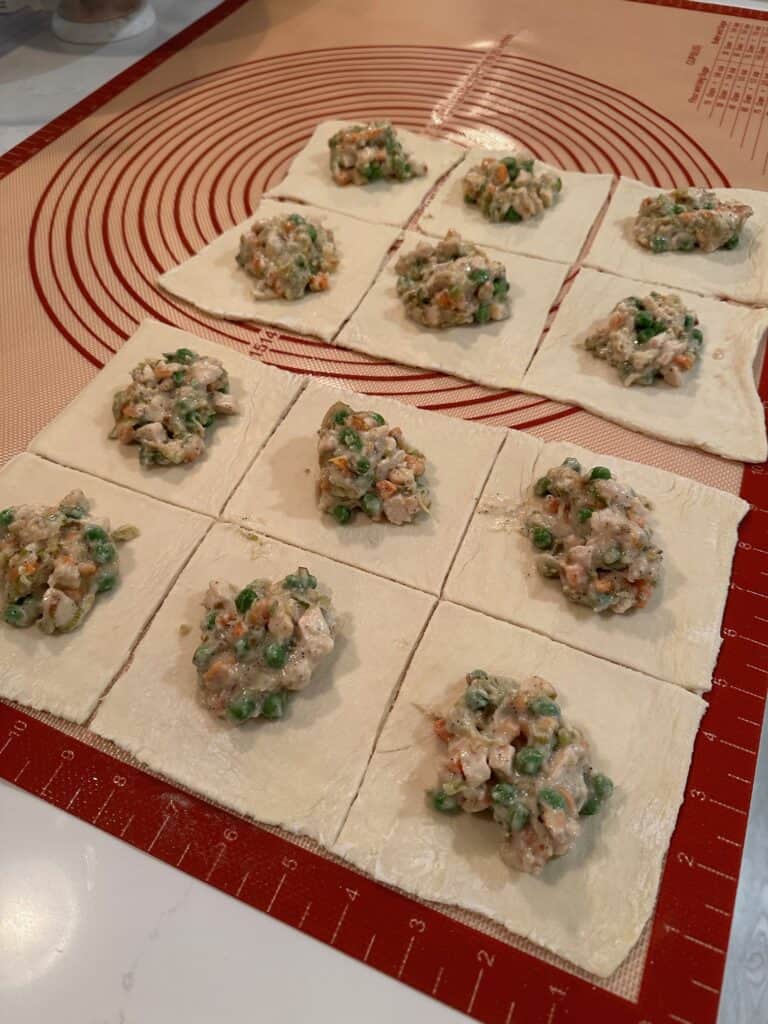 This recipe is a perfect weekend project to knock out and make ahead for the week. It will yield enough for a few meals and makes plenty, so you will have leftovers to grab and go if you have a hectic schedule. Just serve it up with a side salad and it will leave you feeling full, satisfied and balanced. If you are really ambitious, you could make a slew of these and freeze a set (once fully cooled) so you have a quick meal to pull from the freezer in a pinch.
And for the veggie lovers in the house – you can make this recipe minus the chicken if you prefer your meals meat-free and they will turn out just as comfy and tasty. Simply omit the chicken breast and use a low-sodium veggie broth in place of the chicken broth. You can also make your own puff pastry if you are feeling ambitious, but I used store bought here to simplify and it tastes simply delicious. Enjoy!
---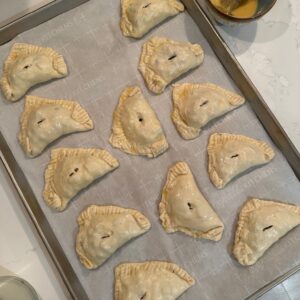 Chicken Pot Hand Pies
Golden brown, savory pot pies in a portable puff pastry container, stuffed full with a creamy chicken and vegetable stew. It is a pot pie, real meal on the go.
Equipment
Saucepan

Sautee Pan

Sheet Pan

Parchment Paper

Pastry Brush

Rolling Pin

ruler
Ingredients
4

cups

low-sodium chicken broth

8

oz

boneless chicken breast

2

tbsp

unsalted butter

1

medium leek -or- yellow onion

1

stalk celery, diced

1

carrot, peeled & diced

1

garlic clove, minced

2

tbsp

all-purpose flour

½

cup

frozen peas

¼

cup

Parmigiano-Reggiano cheese, grated

2

tbsp

finely chopped parsley

2

tbsp

sour cream

1

large

egg

1

14-16 oz package puff pastry

thaw according to package directions

1

tbsp

water

Kosher salt and black pepper
Instructions
Stew Filling
Pour chicken broth into medium saucepan and add chicken breast. Place over medium-high heat and bring to a boil. Reduce to a simmer and cook for 5 minutes. Remove the pot from the heat, cover with lid and let sit for 15 minutes, or until chicken is cooked through. Remove chicken from broth, set aside to rest.

Reserve 1½ cups of chicken broth for later. The remainder can be cooled and kept in the refrigerator for another recipe, if desired. Use within 2 days.

Place large skillet over medium heat. Add the butter to melt, then add leek or onion, celery and carrot. Season with salt and pepper and cook until softened and lightly golden (about 5-6 minutes). Stir in garlic and cook for another minute.

Stir in the flour and toast for 1 minute. Switch to a whisk and slowly add in 1 cup of the reserved chicken broth. Using two forks, shred the chicken and add to pan, along with peas, parsley, Parmigiano-Reggiano and sour cream. Season with salt and pepper, bring to a simmer and cook until thickened. Set aside to cool completely.
Prep Oven
Arrange oven rack to lowest position and heat oven to 425℉. Line a sheet pan with parchment paper and set aside.
Prepare Puff Pastry
If your puff pastry comes in 2 sheets, roll each one out to a 9×14 inch rectangle and cut into six squares, roughly 4½ inches each. If your pastry comes in one large sheet, roll it out to a 14×18 inch rectangle and cut into 12 squares.

Divide stew evenly in the center of each square, fold over into triangles. Press seams down to seal and then use a fork to seal around edges and add a classic design flair. Transfer to parchment lined sheet pan. (May need two sheet pans to fit.)

Beat egg with the 1 tbsp of water to make an egg wash. Brush tops of each pie with wash to add a shine to the finished pies and for a golden crust.

Cut small slit in the top of each pie to allow steam to escape (VERY important so your pies don't explode in the oven).

Bake for 20 minutes, until crisp and golden. Allow to cool to touch, serve and enjoy!