Chocolate Butterscotch Haystacks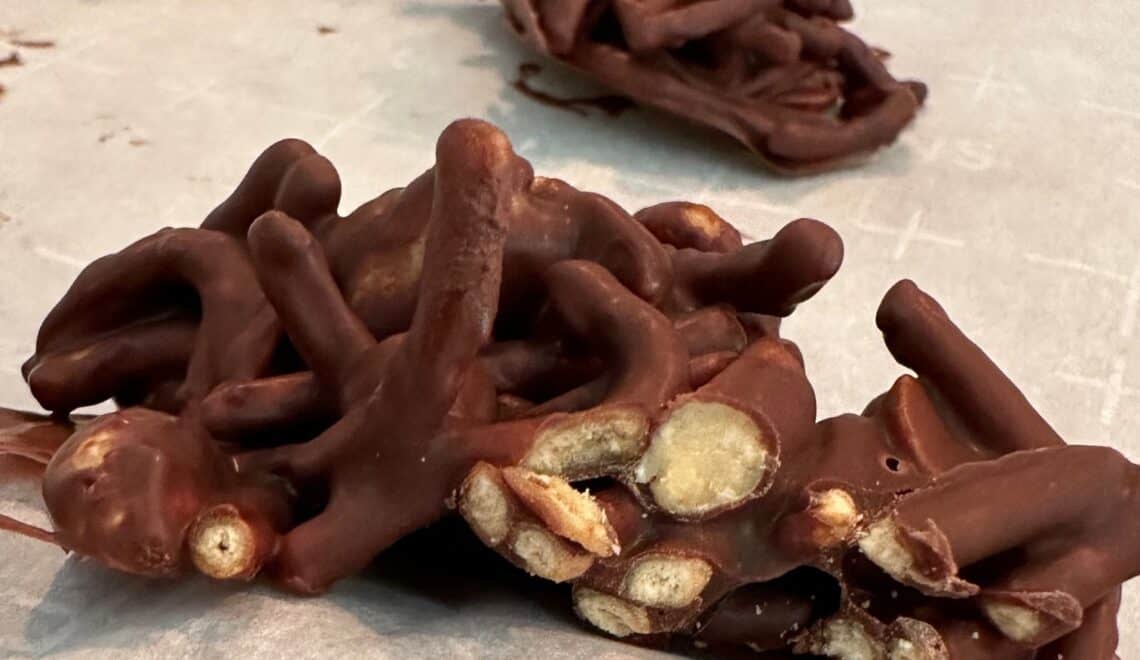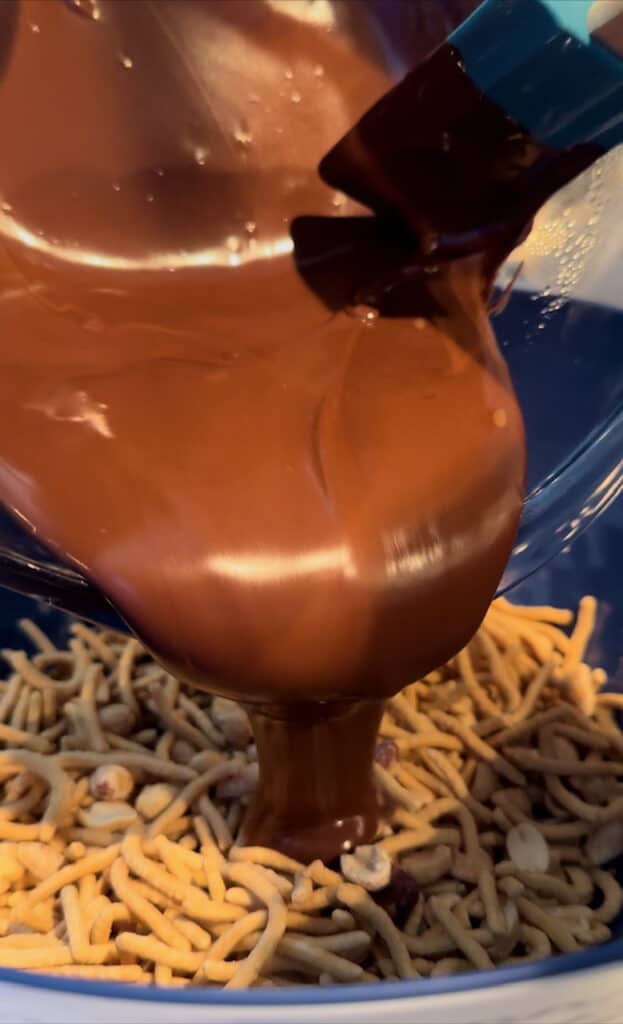 This recipe is a classic and when I stumbled across it just recently, you would have thought I won the lottery. My Mom used to make these for us as kids and I can't say I have thought about them since I was in my early teens.
I remember arm wrestling my brother for the last one because they were that good. They have it all. They are salty and sweet. They are chilled, so they have a cool, crunch that hits all of the senses.
Haystacks are a blend of two of the most complimentary sweet and buttery chip flavors, combined with the savory crunch of Chow Mein noodles and salty peanuts. This recipe is also dangerously easy and calls for very few ingredients and kitchen tools, so it is the perfect dessert to whip up in a hurry for holiday parties, or as a treat for friends, family and kids. This recipe is ideal for making with kids, as they can have fun helping to assemble these cute little nests of goodness.
Jump to Recipe
All you will need is a double boiler, large mixing bowl and baking sheets. If you don't have a double boiler, or have never heard of one before, that is ok too! You can buy a proper one from any department store or Amazon, or if you have a heat resistant glass Pyrex mixing bowl and a large sauce pan, you can create your own makeshift version.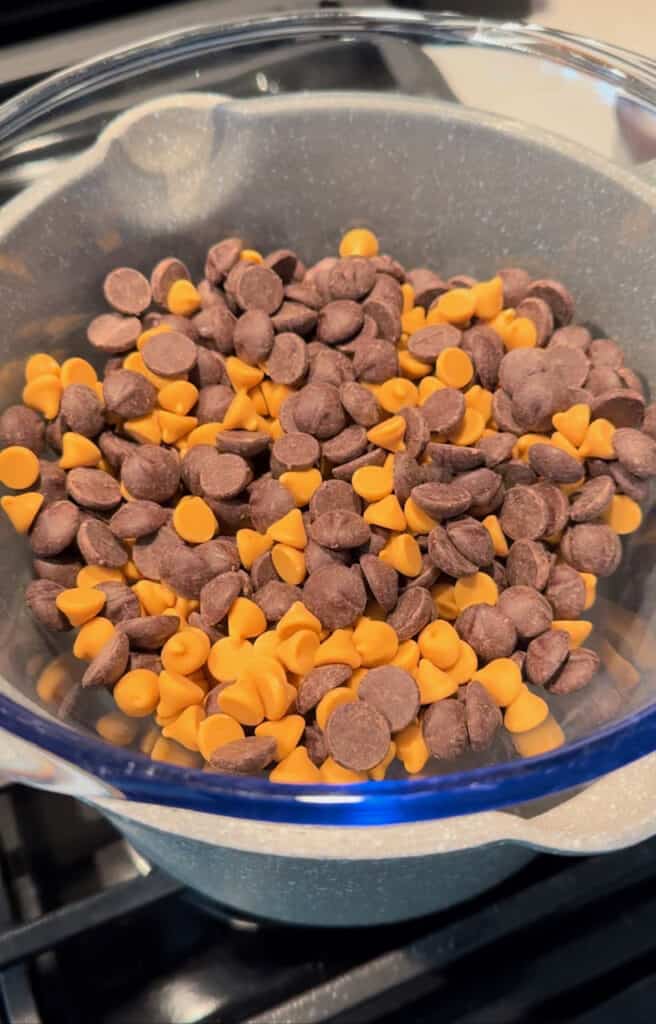 A double boiler is basically a bowl within a bowl. You want to fill the bottom of your pot with about a cup or two of water and place it on the stove on simmering heat. Place the glass Pyrex bowl over the top with the bittersweet chocolate chips and butterscotch chips, so it sits nestled over the water at the bottom of the pot. This essentially gently steams the bowl to melt the chips slowly, and ensures that the mix melts smoothly and doesn't burn. Burned chocolate is no bueno.
Just be sure to mix regularly and keep your eye on the chips as they melt so that you can remove the bowl as soon as it is fully melted. I went ahead and assembled the crunchy noodles and peanuts in a large bowl as soon as I added heat to the double boiler. This way, as soon as the chocolate mix is done and smooth, you can immediately pour it over the top of the crunchy bits and get them all married together, while the chocolate is nice and warm and silky.
These cookies are ridiculously easy to make, which makes them wonderful and dangerous all at once. I can guarantee that after the first time you make these, you will have these ingredients on hand to make them again at a moments notice. Have fun and enjoy!
---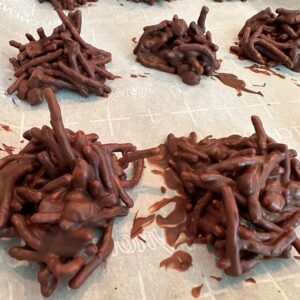 Chocolate Butterscotch Haystacks
The perfect blend of sweet and salty, this dessert combines rich bittersweet chocolate and butterscotch chips with the crunch of Lo Mein Noodles and salty peanuts.
Equipment
2 Baking Sheets

Parchment Paper

Large Mixing Bowl

Double Boiler

Small Spoons & Rubber Spatula

measuring cups
Ingredients
Dry Ingredients
1

cup

dry salted peanuts

5

oz

can Chow Mein Noodles
Wet Ingredients
1

cup

bittersweet chocolate chips

1

cup

butterscotch chips
Instructions
Chocolate Mixture
In a double boiler, add the chocolate and butterscotch chips. Heat on a simmer. Once chips begin to melt, mix regularly with a spatula until they are smooth and combined.
Crunchy Mixture
In a large bowl, mix together peanuts and full can of noodles. Set aside.
Haystacks
Once chocolate and butterscotch mixture has fully melted and combined, pour over the top of the crunchy mixture of peanuts and noodles and quickly mix to fully combine all of the ingredients.

Use two small spoons to scoop roughly 3 Tbsp of the mixture onto the parchment lined baking sheets in a single layer, yielding a total of 24 haystacks. Two baking sheets may be needed.

Place the baking sheets flat in the refrigerator and allow haystacks to cool for at least one hour before packaging or serving.