"Company's Coming" Banana-Walnut Chocolate Chip Loaf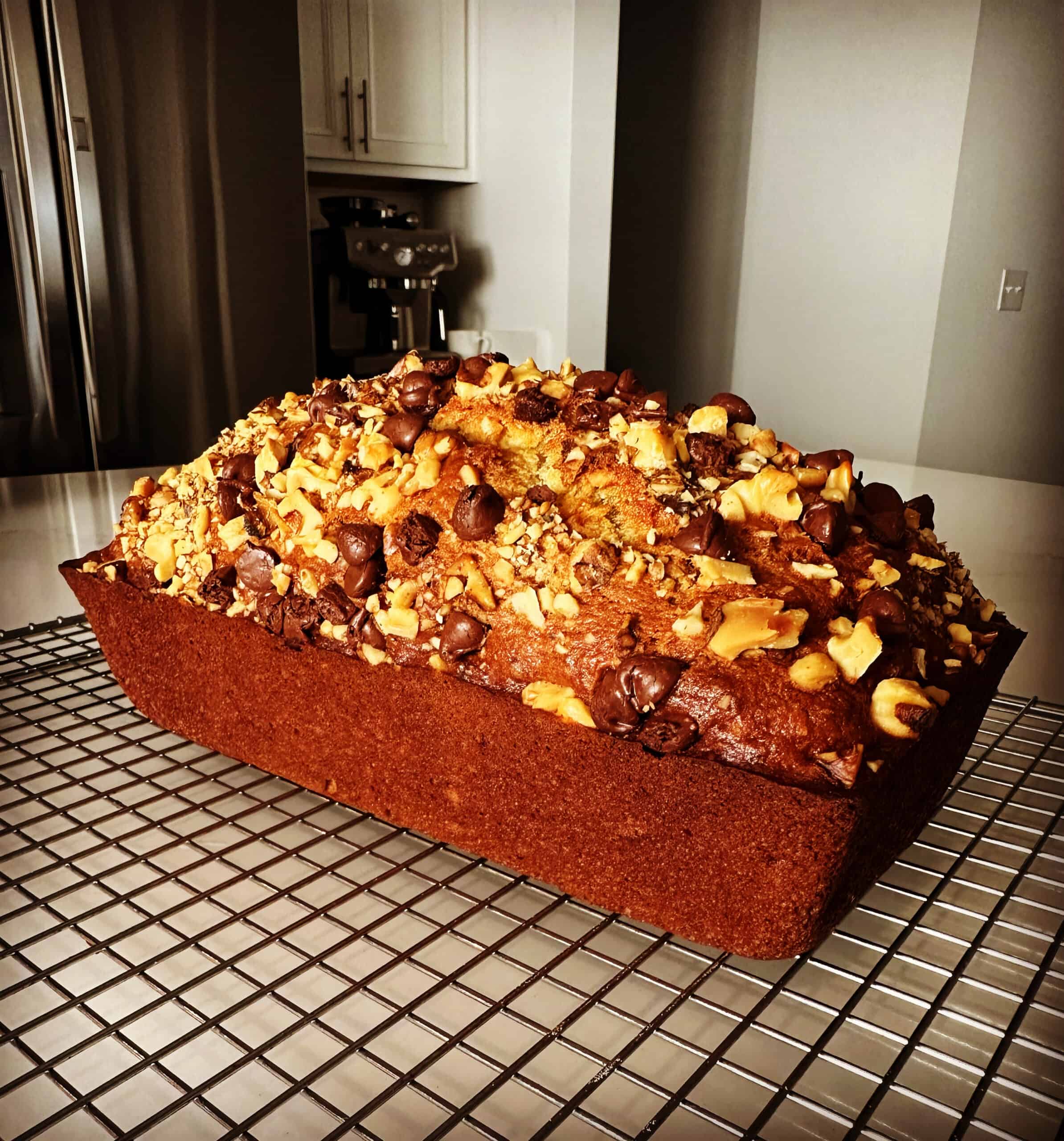 Since moving to the Lowcountry, for some reason, one of my favorite pastimes has become baking for my friends. I don't know if this is some inherent southern trait that reveals itself once you have lived here long enough? Or perhaps it is just "older age" creeping in and I find enjoyment in much more subtle activities than I did in my younger years.
I have always loved to cook, but baking, not so much. Cooking is such a passionate act, calling for a dash here, and a handful there. I have never followed a recipe to a tee, so it is not an exacting process for me. I have always appreciated the creativity of taking a recipe and making it my own.
Baking is a whole other animal. It requires precise skill, and completing a set of tasks in a certain order, with a delicate and methodical touch. I don't know why it never appealed to me sooner. I am an extremely organized individual and can appreciate a good order to things. I am a true Virgo, after all.
When I was in my teens attempting to bake, I would simply take the ingredients listed, dump them into a bowl in tandem, mix them up, and toss them in the oven in the suggested vessel of choice. Proper sifting and folding of ingredients was not done in those days, for me. I have since come to find that there is a science and measured art to good baking, to meld flavors and achieve proper texture, which I never quite grasped at an early age. Needless to say, my baked goods didn't sell out at the school bake sale, if you catch my drift.
Since coming into my own and developing my baking skills over the past few years, I have found a sense of meditation and therapy in the process. And one of the greatest feelings in the world to me is presenting my friends with a homemade baked good of some sort, to lift their spirits and put a smile on the recipients faces. It brings me sincere joy.
I have dabbled in cookies, pies and breads of all varieties, but my most requested confection, hands-down, has to be the tried and true, classic banana bread loaf. There is a certain nostalgia to it that I think we can all relate to in one way or another. It is a food that stirs a memory of happy times for so many.
Now, making this bread takes a slight bit of planning ahead. You have to purchase the bananas and ripen them to the perfect brown hue, with the exception of Kroger's fabulous section of reduced-price, aged bananas that are perfect for baking (also great for those banana pudding artists among us). I mean it when I say that I could make this recipe on a loop and never run into a shortage of friends to share it with at any given moment.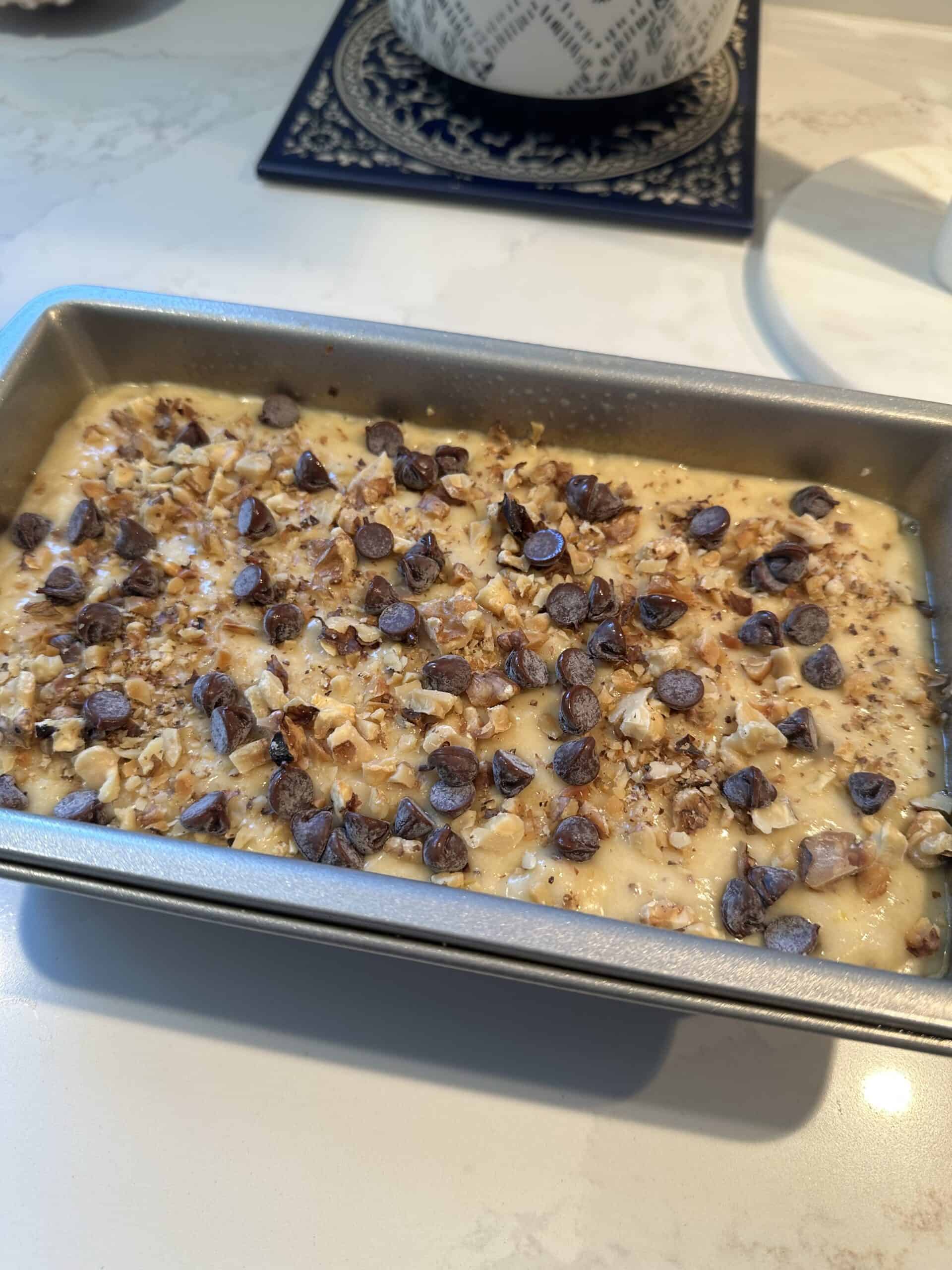 This showstopper is as beautiful as it is tasty and it is a truly simple recipe to keep on hand and in your back pocket. After all, it isn't polite to show up to someone's house empty handed, and you will always be welcomed with this sweet gift.
If you want to reach the height of sophistication, you can wrap it in one of those pretty, colorful, decorative bakers wraps and seal it with a ribbon and handwritten tag. The sky's the limit for your own brand of finishing touches!
Full credit for the original recipe goes to Kitchn, which is my go-to website for the best recipes and cooking techniques around, in my humble opinion. I have adapted it a slight bit, but this is the most classic recipe I have found, and I have tried about all of them.
My final suggestion – don't skip the chocolate chips. I personally use the less potently sweet Ghirardelli semi-sweet chips, both mixed into the batter and sprinkled on top (in addition to the walnuts). It is pure perfection.
---
"COMPANY'S COMING"
BANANA-WALNUT CHOCOLATE CHIP LOAF
Cook Time: 1-1.5 hours
Pre-heat Oven Temp: 350°
Yield: 1 – 8" Loaf
INGREDIENTS
Cooking spray
8 tablespoons (1 stick) unsalted butter
1 cup granulated sugar
2 large eggs
1/4 cup milk
1 teaspoon vanilla extract
3 medium bananas, very ripe
2 cups all-purpose flour
1 teaspoon baking soda
1/4 teaspoon salt
1/2 cup chopped nuts or chocolate chips (optional)
EQUIPMENT
1 8×5-inch loaf pan
Parchment paper
Large Bowl
Whisk or fork, if making by hand
Stand mixer or hand mixer, if not making by hand
Spatula
INSTRUCTIONS
Heat the oven to 350°F and prep the pan. Arrange a rack in the bottom third of the oven and heat the oven to 350°F. Line an 8×5-inch loaf pan with parchment paper, letting the excess hang over the long sides to form a sling. Spray the inside with cooking spray. → If using nuts, toast them in the oven for 10 minutes as the oven is pre-heating.
Melt the butter. Melt the butter in the microwave or over low heat on the stovetop. → Alternatively, for a more cake-like banana bread, soften the butter (but do not melt) and cream it with the sugar in a stand mixer in the next step.
Combine the butter and sugar. Place the melted butter and sugar in a large bowl and whisk until combined. (Or cream the softened butter and sugar in a mixer until fluffy.)
Add the eggs. Crack the eggs into the bowl. Whisk until completely combined and the mixture is smooth.
Add the milk and vanilla. Whisk the milk and vanilla into the batter.
Mash in the bananas. Peel the bananas and add them to the bowl. Using the end of the whisk or a dinner fork, mash them into the batter. Leave the bananas as chunky or as smooth as you prefer. If you prefer an entirely smooth banana bread, mash the bananas separately until no more lumps remain, and then whisk them into the batter.
Add the flour, baking soda, and salt. Measure the flour, baking soda, and salt into the bowl. Switch to using a spatula and gently stir until the ingredients are just barely combined and no more dry flour is visible.
Fold in the nuts or chocolate, if using. Last but not least, scatter the nuts or chocolate over the batter and gently fold them in.
Pour the batter into the pan. Pour the batter into the prepared loaf pan, using the spatula to scrape all the batter from the bowl. Smooth the top of the batter.
Bake for 50 to 65 minutes. Bake until the top of the cake is caramelized dark brown with some yellow interior peeking through and a toothpick or cake tester inserted into the middle comes out clean, 50 to 65 minutes. Baking time will vary slightly depending on the moisture and sugar content of your bananas — start checking around 50 minutes and then every 5 minutes after.
Cool in the pan for 10 minutes. Set the loaf, still in the pan, on a wire cooling rack. Let it cool for 10 minutes — this helps the loaf solidify and makes it easier to remove from the pan.
Remove from pan and cool another 10 minutes. Grasping the parchment paper sling, lift the loaf out of the pan and place on the cooling rack. Cool for another 10 minutes before slicing.
---
RECIPE NOTES
Banana muffins: To make muffins, line a muffin tin with paper liners and fill each cup to roughly 3/4 full, and check for doneness after 20 minutes. Makes 8 to 10 muffins.
Storage: Wrap leftovers tightly in plastic wrap and store at room temperature for several days, or wrap the bread in plastic wrap and then aluminum foil and freeze for up to 3 months.