Cowboy Cookies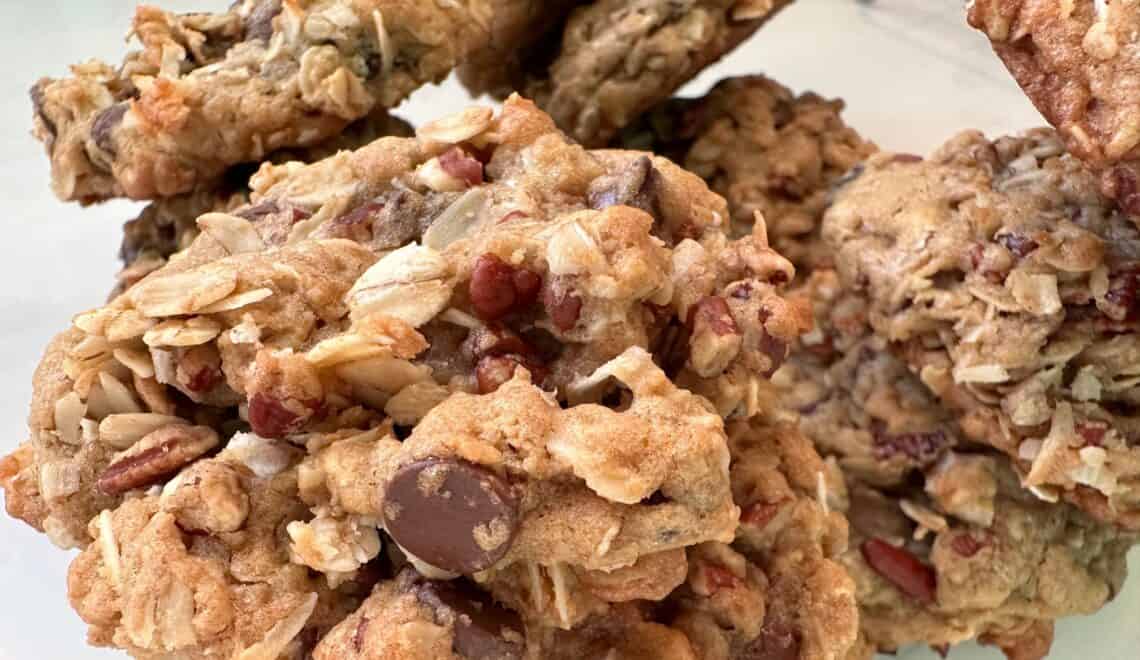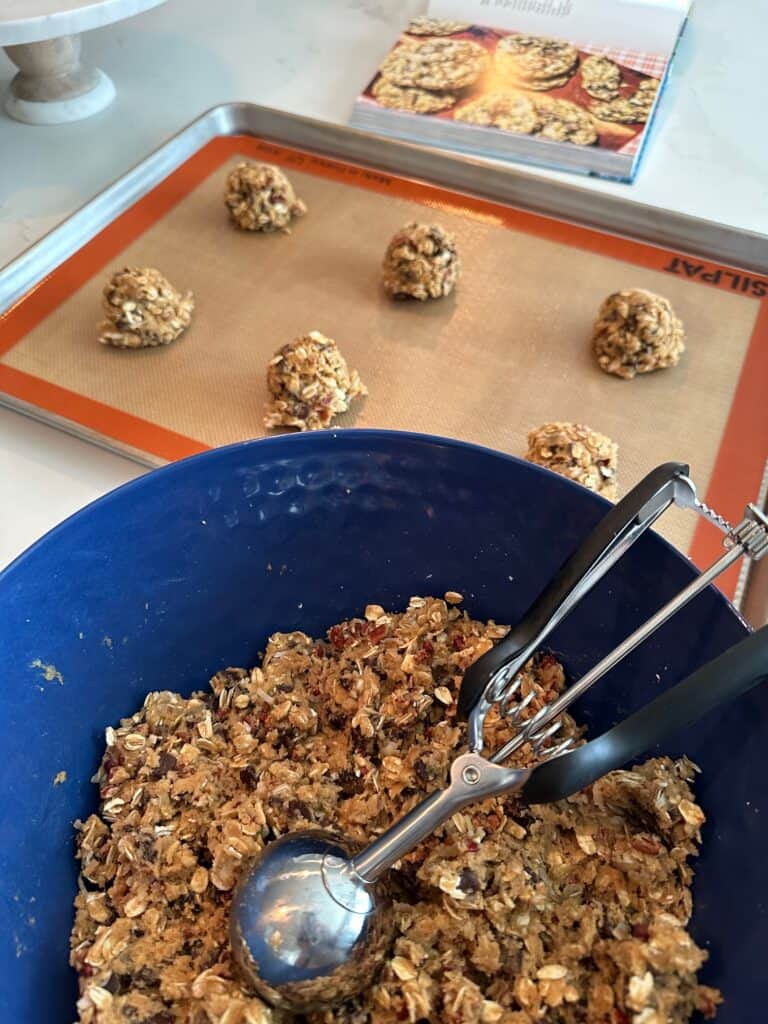 We are far from living on a ranch and wearing chaps here in sunny Hilton Head Island, but I have been channeling my inner cowgirl this week with the household menu. First, we kicked it off with the Pioneer Woman Ree Drummond's Hamburger Soup recipe, which has been featured as our absolutely delicious dinner all week long. The second installment is the Cowboy Cookie recipe from Baking Yesteryear, by B. Dylan Hollis.
Let me start by saying that I have eaten a whole lot of cookies in my lifetime, and I am on the continual quest for the perfect cookie. This is about as close as I have gotten, to date, and I don't make blanket statements like these lightly. It is the kitchen sink of cookies, and it fittingly eats like a full meal, as it was made for hungry, hard-working cowboys out on the range.
This cookie gives a little extra heft and a whole lot of sweetness. It is basically an oatmeal cookie on steroids, and there is nothing I like more that a mash-up cookie that throws a multitude of ingredients into the bowl. This offers the perfect balance between slightly savory oats, warm pecans and buttery base, against the sweetness of a massive amount of semi-sweet chocolate chips, rich brown sugar, coconut, and my personal addition of raisins. It is quite possibly the perfect cookie. I am currently obsessed.
Jump to Recipe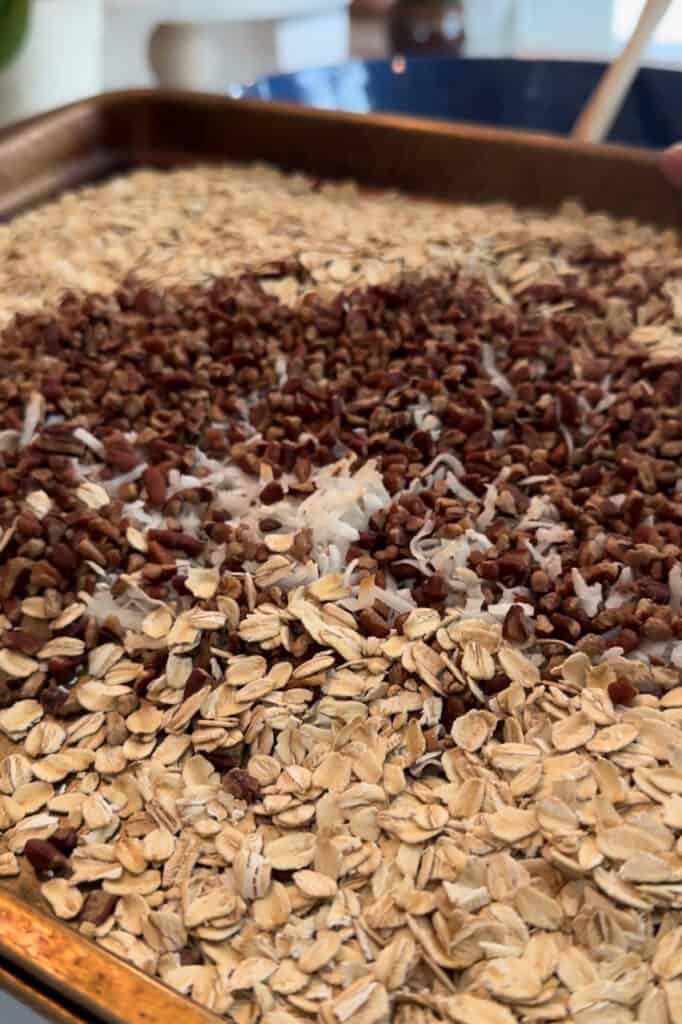 This one is a must try, and although I am sharing it here, do yourself a favor and pick up a copy of the cookbook itself. As a cookbook connoisseur, this one is worth the shelf space, particularly if you enjoy baking. It is packed full of such unique and classic recipes (and a few that the author self-proclaims as gross varieties from the past), but there are some real classic gems layered in as well. I also truly appreciate humor, particularly when you can fold it into the realm of the kitchen.
If you haven't checked out his cheeky YouTube channel yet, you will certainly get a feel for his humor here, as it is prevalent in his storytelling throughout the book. It is equal parts humor and recipes, making it a joy to simply sit down and read with a good cup of tea, minus the spatula. The physical book itself is also quite beautiful, with retro visuals and a beautifully crafted, quality hardback binding. Mine was a gift and I treasure it!
Recipe Notes:
Even if you aren't particularly a coconut fan, the minimal amount here just adds a little extra flavor without the overwhelming mouthfeel of coconut that turns so many people off, so I suggest including it and giving it a try, despite your preferences.
The recipe states that the yield is four dozen, so as you can imagine, this recipe makes a whole lot of cookies. I ended up using my three tablespoon ice cream scooper to make the cookies a bit larger, so it yielded 32 cookies, instead of 48. I just prefer a larger cookie, so this is your preference. I baked these on the longer side of the time the recipe called for. I found that 14 minutes was just perfect, to keep that chewy center and get the crispiness on the outside edge.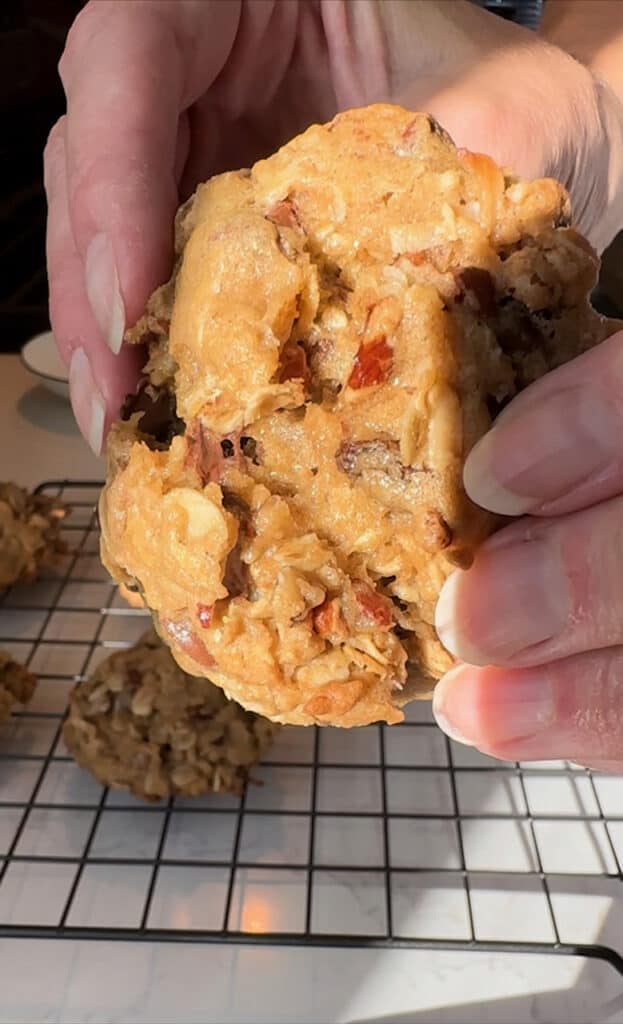 I love raisins in an oatmeal cookie, and it just sounded like it would fit perfectly into this mish-mash of a concoction, and it really did. If you don't like raisins, you can leave them out, but if you do like them, you can add anywhere from 1/2 cup – 3/4 cup for the perfect ratio, without them being overpowering. I just love the sweet chew and it perfectly compliments the other ingredients.
To save time, I used chopped pecans, so I could skip the step of having to cut up the pecan halves. It worked out just fine, so this is a great little shortcut to save a little time.
Due to the massive amounts of ingredients, it almost feels like you won't possibly be able to mix all of them together to form a moldable dough. To use a good southern term, you really have to "put your foot into this one."
It takes a little arm strength to mix, and you may even (gasp) use your (washed) hands at the point where you add in the toasted oats, pecans and coconut to really meld everything together well. Be sure you use a really big mixing bowl at the start of the process because the ingredients mount up quickly and you need a little room to move as you stir.
The author also notes that if you want to switch things up, you can easily turn these into the Cowboy Cookie's cousin, Ranger Cookies. This is done by omitting the pecans and chocolate chips and adding 1-1/2 cups of Rice Krispies cereal (untoasted) in their place. Simply bake at 350F for 10-12 minutes.
I like to make big batches of cookies all at once. I always freeze about half of them so that I can extend savoring them in installments for weeks to come. I simply place them in a good gallon sized freezer zip bag. Be sure to label them with the contents and date. These should be eaten within about 3-months, but highly unlikely they will last that long in my house.
Lastly, I may be partial, but I always lean toward Ghirardelli chocolate chips for my cookies and desserts, due to the quality and flavor. Same goes for the oats. I prefer Bob's Red Mill Old Fashioned Rolled Oats for baking. These brands are not necessary, and they usually cost a bit more, but if you are going to put your heart and soul into making a cookie, you may as well go all in on the final result!
---
Cowboy Cookies
The kitchen sink of cookies, this glorious treat combines savory oats and butter with the perfect blend of sweetness from loads of semi-sweet chocolate chips, coconut and raisins.
Equipment
Mixing Bowls

Ice Cream Scooper

Baking Pans

Parchment Paper

Hand Blender or Stand Mixer

Measuring Cups/Spoons
Ingredients
1

cup

unsweetened shredded coconut

1

cup

(heaping) pecan halves

2

cups

rolled oats

1

cup

butter, softened (2 full sticks)

1

cup

granulated sugar

1

cup

packed dark brown sugar

2

large eggs

1

tbsp

vanilla extract

2

cups

all-purpose flour

1

tsp

salt

1

tsp

baking soda

2

cups

semi-sweet chocolate chips

½-¾

cup

raisins

optional
Instructions
On a large baking sheet, lay the coconut, oats and pecans flat. Toast in the over for 8-10 minutes. Let cool completely on the baking sheet.

In a large bowl, cream the butter, sugar and brown sugar until light and fluffy. Beat in the eggs and vanilla.

In a separate bowl, combine the flour, salt and baking soda. Add this to the creamed mixture and combine well.

If you used pecan halves, cut them into a fine chop.

Mix the toasted coconut, oats, pecans, chocolate chips and raisins into the dough mixture and mix until all ingredients are combined.

Drop by rounded tablespoons or with a cookie scoop onto a parchment-lined or greased baking sheet. Bake for 11-13 minutes, or until the sides of the cookies begin to brown slightly.

Cool briefly on the baking sheet before transferring to a wire rack to cool completely (helps to keep them from crumbling).