Everything Bagel & Sausage Breakfast Casserole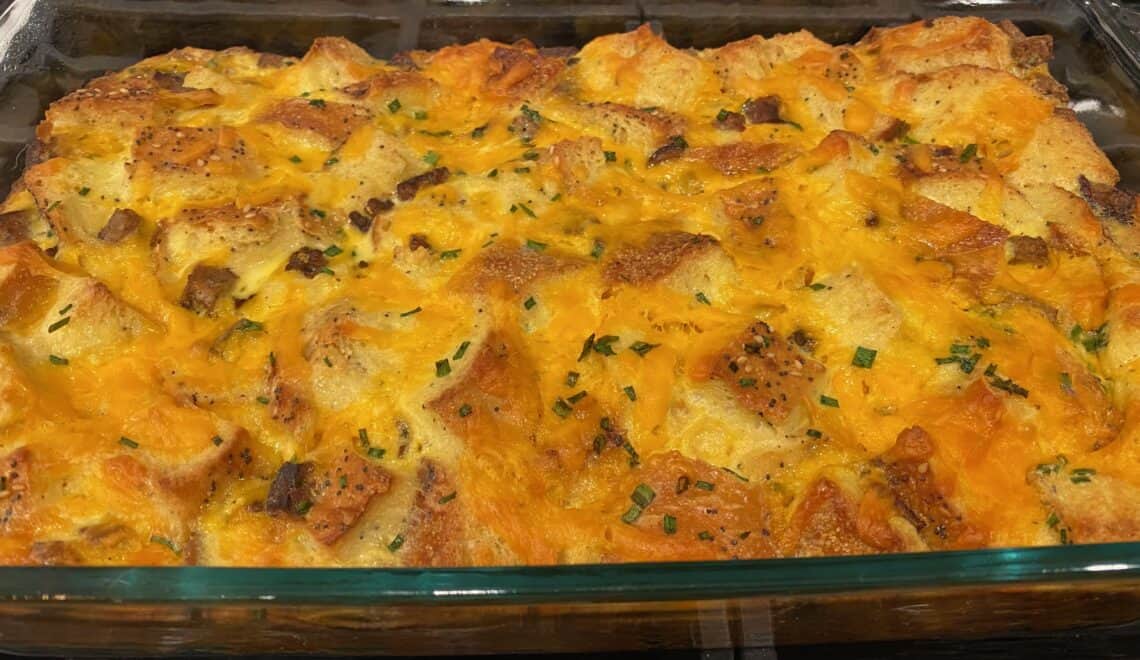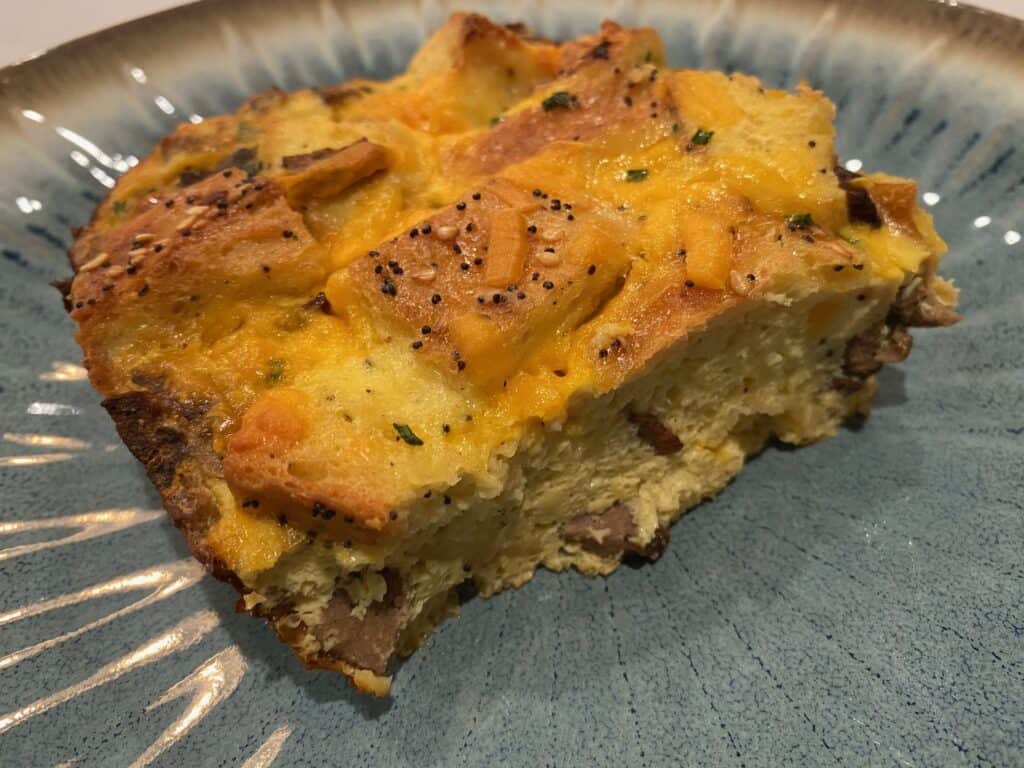 If there is one thing that I have found all southerners love, it is a casserole. This one pot wonder is quintessential for gifting as a downright neighborly gesture. It can be presented as a meal to sick neighbors, and for celebrations, funerals, birthdays alike. You name the occasion and there is a casserole that fits. It is a catch all dish to show that you care, and there is something so endearing about that notion to me.
With the holidays upon us, we are all looking for ways to show the love to our guests. I am always thrilled to find great recipes that can be prepped ahead and don't require too much maintenance, and can satisfy a crowd. No matter your guests, this one is always a crowd pleaser because it uses such classic comfort ingredients.
In previous posts, I have professed my deep love of bagels. Here, I am taking it to the next level with a soul warming, hearty breakfast casserole that calls for chewy, day old bagels, eggs, turkey sausage and cheese. Not only is it delicious, but it is easy to assemble and requires that you make it 24-hours in advance to allow it to set. So whip it up, pop it in the fridge and you are ready to go when company awakens, ready to eat.
Recipe Notes
As always, you can omit the sausage to make this a more universal dish, but if you like meat, I don't recommend it. I use turkey sausage to keep it healthier, but you could use whichever is to your liking, or substitute cooked bacon if that better suits your fancy.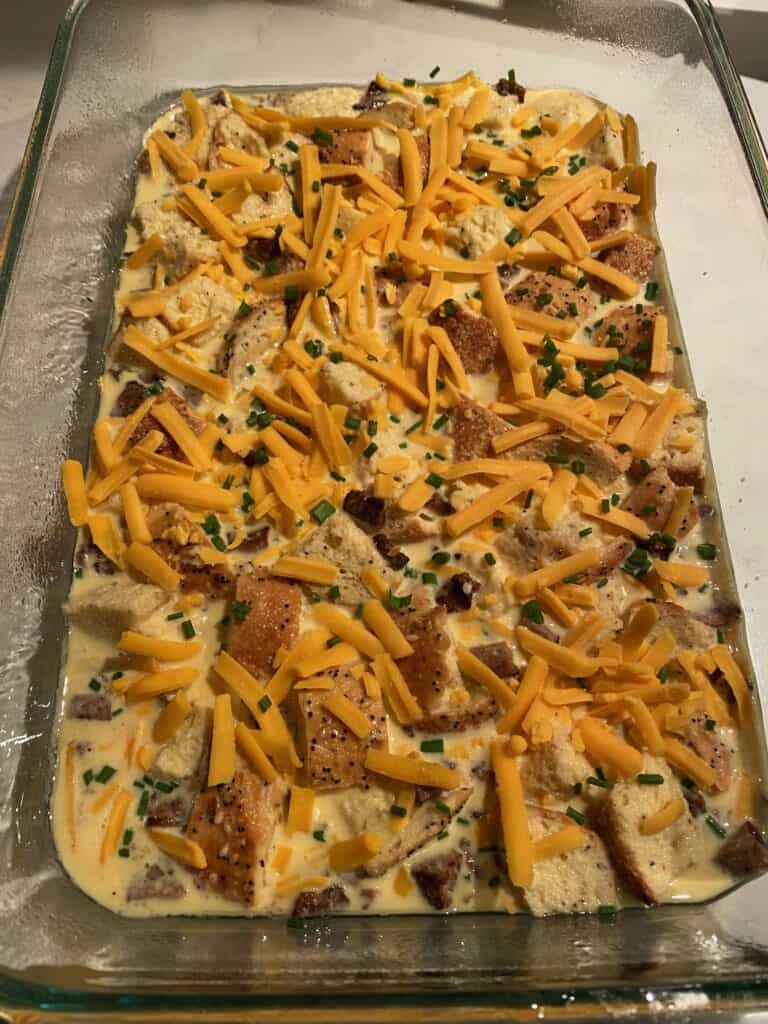 I like to use everything bagels that are a day or two old, so they are a little chewy and stale. I find the flavor from the everything seasoning adds a little extra pizzaz, but you can use any savory flavored bagel that you like. You could use a cinnamon raisin bagel too, if you desire a salty/sweet flavor combo as the end result. About six slices of plain old white bread would do just as well too, if it's what you have available.
You can also use pre-shredded cheddar cheese to make the prep easier, or if you don't have a box grater. The cheese tends to have more flavor and melt better if grated fresh from the block, but isn't mandatory. If you can find a white cheddar, it looks better aesthetically, but yellow will do just fine. I had yellow on hand, so that is what I used!
I can promise you that this whole dish will get eaten quickly once it is placed on the table, even if you only have a handful of guests. I like to serve it with diced fruit on the side to balance it out a bit. This casserole will leave a delicious aroma in the air as it cooks, and will free up your time to sit with a cup of coffee and appreciate the company of your guests while this beauty bakes up golden and gooey. Enjoy!
---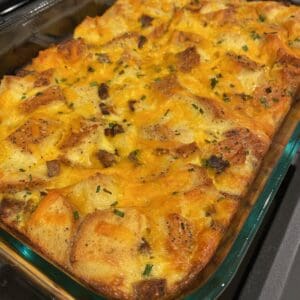 Everything Bagel & Sausage Breakfast Casserole
The perfect combination of eggs, sausage, bagels and cheese in an easy, make ahead casserole. Perfect for holiday mornings with company.
Equipment
measuring cups

9×13-inch baking dish

Large Frying Pan

Large Mixing Bowl

wooden spoon or rubber spatula

box grater
Ingredients
1

tbsp

olive oil

16

ounces

sausage, diced or crumbled

I prefer turkey sausage

12

large

eggs

2

cups

half-and-half

2

tsp

dry mustard

3

day-old bagels, torn

2

cups

(block) sharp cheddar cheese, grated

white or yellow

1½

tsp

kosher salt

½

tsp

black pepper

cooking spray
Instructions
Place frying pan over medium-high heat and add olive oil. Allow oil to warm slightly and add your sausage to the pan. (Remove from casings first, if there are any.) Break meat up into crumbles using a wooden spoon and cook through to remove pink, until meat starts to brown. Remove the pan from the heat and set aside, allowing meat to cool slightly.

In a large mixing bowl, add the eggs, half-and-half, dry mustard, salt and pepper and whisk together until combined.

Grate the block of cheddar cheese using the large holes of a box grater until you have two cups.

Tear the bagels into rustic 1-inch chunks. They don't have to be perfect, just about bite sized.

Add half of the cheese (1 cup) and all of the bread into the bowl with the egg mixture. Transfer the sausage into the egg mixture (using a slotted spoon to remove excess grease) and fold together gently until combined.

Coat the 9×13-inch baking dish with cooking spray.

Pour egg, sausage, cheese and bread mixture evenly into the baking dish. Sprinkle the remaining 1 cup of cheese on top.

Cover with foil and refrigerate for 24 hours (at the very least 8 hours). This allows the bread to absorb the egg mixture.

Remove casserole from fridge before cooking and allow it to warm to room temperature before cooking, while oven is heating.

Arrange rack in the middle placement of the oven and heat to 350℉. Bake uncovered until the top is golden brown. To test, insert a knife in the center and ensure that it comes out clean, 50-55 minutes.

Allow to sit for about 10 minutes to set and cool, then slice, serve and enjoy!