Kouign Amann – The Queen of Pastries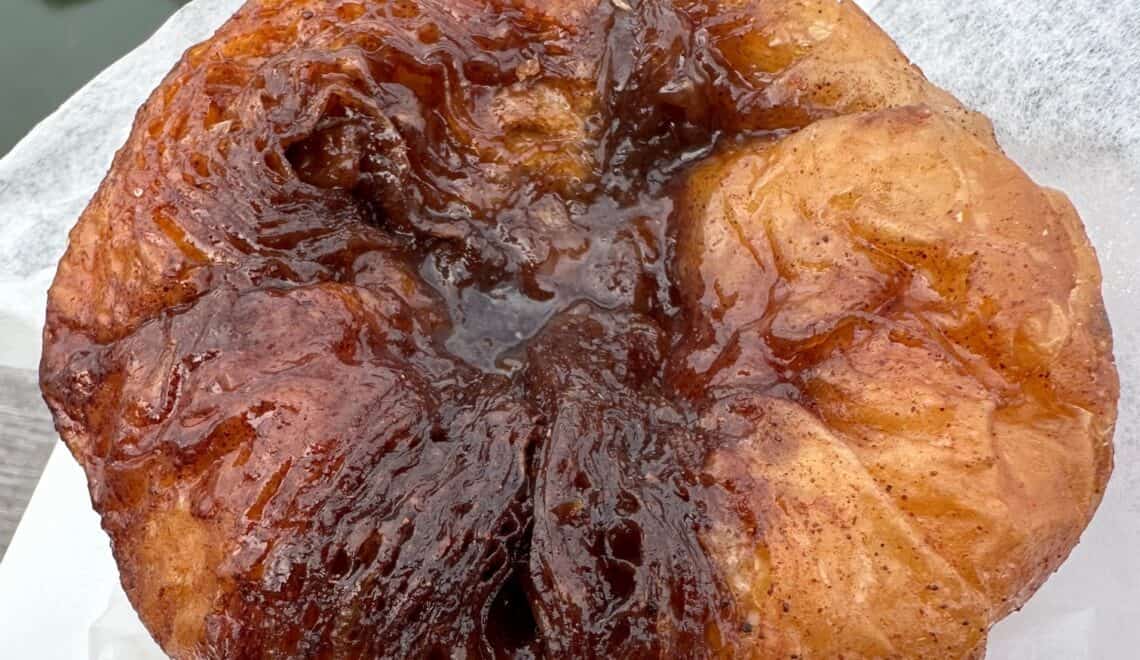 I have been taking a deep dive into baking and pastry making lately. As I have mentioned before, I consider myself to be somewhat of a novice when it comes to baking, thought I am slowly getting more skilled with lots of practice.
I grew up in a very accomplished baking family, but shockingly, I never took an interest or considered myself to have any talent in this department. I wasn't super into sweets growing up, and all of my attempts to bake were half-hearted and lackluster, particularly in comparison to that of my more talented family members.
Skip to the current moment. I couldn't tell you what changed, but I have what could be described as an insatiable appetite for all things baking. As soon as I begin to research one recipe, I fall into a rabbit hole of 10 more, along with the techniques that accompany them, and before you know it hours have passed. I find this whole new world of baking to be so incredibly interesting and it satisfies my thirst for continual growth and knowledge. I am teaching myself the ropes, one recipe and technique at a time.
I think we all have the ability to psych ourselves out and let fear get the best of us, particularly as we get older. We may convince ourselves that once we have defined ourselves as unskilled at something, we can never change it, particularly as we grow in age. I say bullocks to that. If there is something that you want to do, move past the fears and try it.
This has been my goal with baking. To stop telling myself I can't, because I am finding as I go and have the courage to try, that I really CAN bake, and bake pretty darned well! It also brings me immense joy, so here I am doing the work and sharing in the hopes of inspiring others to reach their goals of baking too.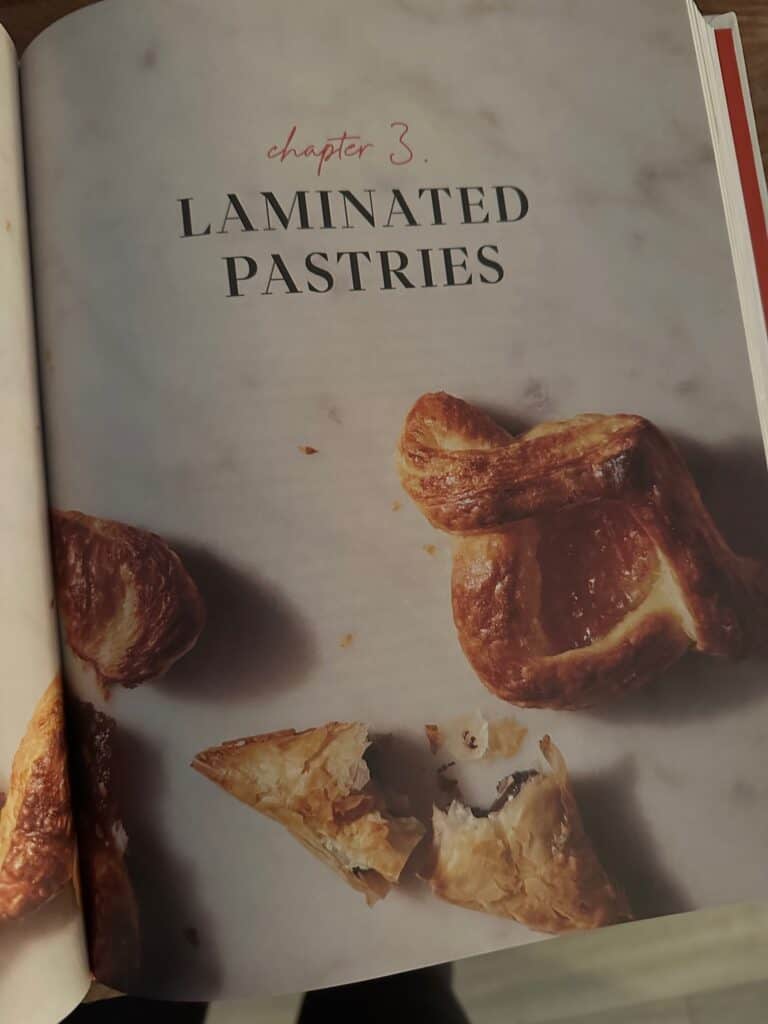 This journey has also required me getting over my many fears of varied kitchen equipment that I am slowly conquering. I will talk more about that later, but I had total intimidation of some of the most handy (and commonly used) kitchen tools. So silly, but I suspect I am not the only one with this quirk, so I will go over some of the basic tools that have turned out to be lifesavers.
Lately, I have become fascinated with the art of laminating dough. This is an art that is marked by layering dough in a delicate and fastidious process, and overlapping each layer over a massive amount of butter. The end result is a flaky, puffy croissant texture. This is accomplished due to each layer of the dough being lifted by steam that is created from the butter cooking during the baking process. This steam puffs the pastry from within between each of the layers, giving it those signature striations and pull apart texture.
If you begin to research lamination, you will undoubtedly stumble across more than one mention of the Kouign Amann (pronounced "QUEENA-MAHN"). I have eaten my fair share of croissants in my lifetime, but never have I come across (to my memory) a Kouign Amann…until this week.
History of the Kouign Amann
A specialty of the town of Douarnenez in Finistère, Brittany where it originated around 1860, the pastry is attributed to Yves-René Scordia (1828–1878). The name comes from the Breton language words for cake (kouign) and butter (amann), and in 2011, the New York Times described it as "the fattiest pastry in all of Europe."
In addition, the Kouign Amann has been a staple pastry at many Japanese bakeries after becoming popular in the late 1990s. (I'm not sure how I completely missed this craze, but I did!)
In 2014, episode 7 of series 5 of the BBC's The Great British Bake Off featured this renowned pastry. In 2015, notable bakeries in New York City, Washington D.C., Boston, Salt Lake City, and San Francisco began to sell the pastry. In Denver, several bakeries offer varieties, some of which shorten the pastry's name to simply, "queen." In Bremerton, Washington, Saboteur Bakery sells the handheld "kouignette" version, which is petite and stunning as well. (Wikipedia)
The First Taste
I decided to take a trip up to a local bakery by the name of Hilton Head Social Bakery here on Hilton Head Island, where I live. It is a traditional French Bakery, and the owner truly hails from France. I have eaten their desserts at many a sophisticated function around town, but I wanted to go to the source to see for myself. I just knew they HAD to have a proper Kouign Amann for me to try.
I could have sat there and admired the pastries for hours. First, the thought of all of the work, talent, skill and artistry that goes into making just one variety, out of the dozens that they had on display, is truly awe-inspiring. It is hard to grasp that they could create so many beautiful and intricate desserts in just a day's work. You have to respect that level of skill.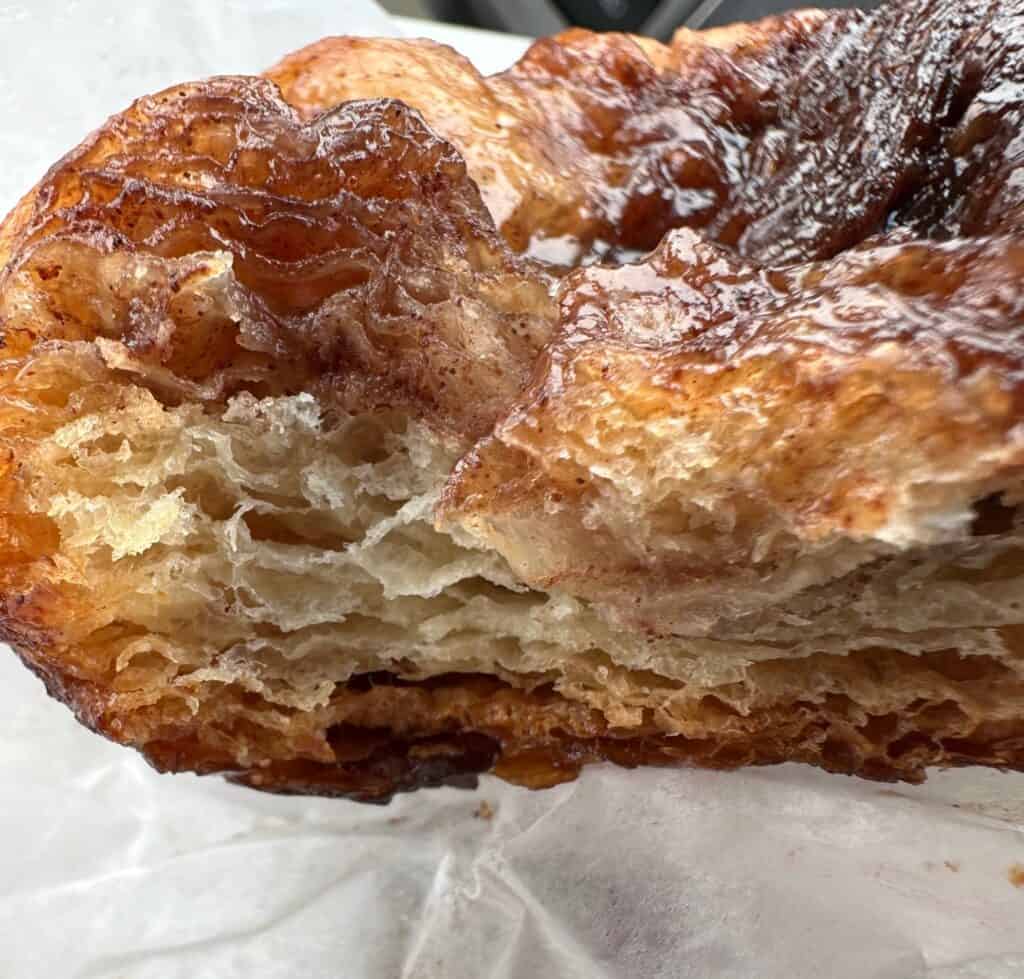 I scanned the glass case, up and down, perusing the chocolate encased cremes and lava cakes, gazing past the macrons and fruit tarts — then alas, there it was.
Sitting unassumingly atop the pristine glass case, quietly hidden from the crowd, I spotted a row of the Kouign Amann I was seeking. This humble pastry is one of the most classic of all the pastries. It is a true bakery staple – quintessential, if you will.
I could not wait to try it and I knew that this was THE place to get my first taste of one. I was determined to visit an authentic French bakery, This would, after all, be the standard I would set for how this little puff of heaven should taste, in order to give me something to compare my own attempts against. I was not disappointed, to say the least.
Ok…So what in the heck is a Kouign Amann?
Think of a cross between a sugared croissant and a hot bun but without the cinnamon. Rounded it shape, this treat gives you layer upon layer of creamy salted butter and sugar mixture that creates pockets of sweetness in the pastry's soft, moist center and a crispy salted caramel like coating on the exterior.
It is an irresistible combination of sweet, salty, sticky, buttery, crispy, flaky and tender. The texture mimics a croissant, but it has a crunchy, sugary caramelization around the outside and along the bottom edge from the sugar hitting high heat. It's flowery design is as pretty as it is tasty. Seeing as this pastry was a totally new discovery for me, and that I am embarking on a laminating journey, I may make this my first project when I finally work up the courage to attempt the technique.
Since discovering this treat, I have since been seeing it everywhere. It pops up in my searches regularly, no doubt because of my dessert-heavy search history, but it seems clandestine. I will be sure to share the process and report back on all of my successes and failures to provide tips for a successful first try, should anyone else have a similar burning desire to laminate.
Wish me luck, and more to come!