Roasted Tomato & Grilled Cheese Soup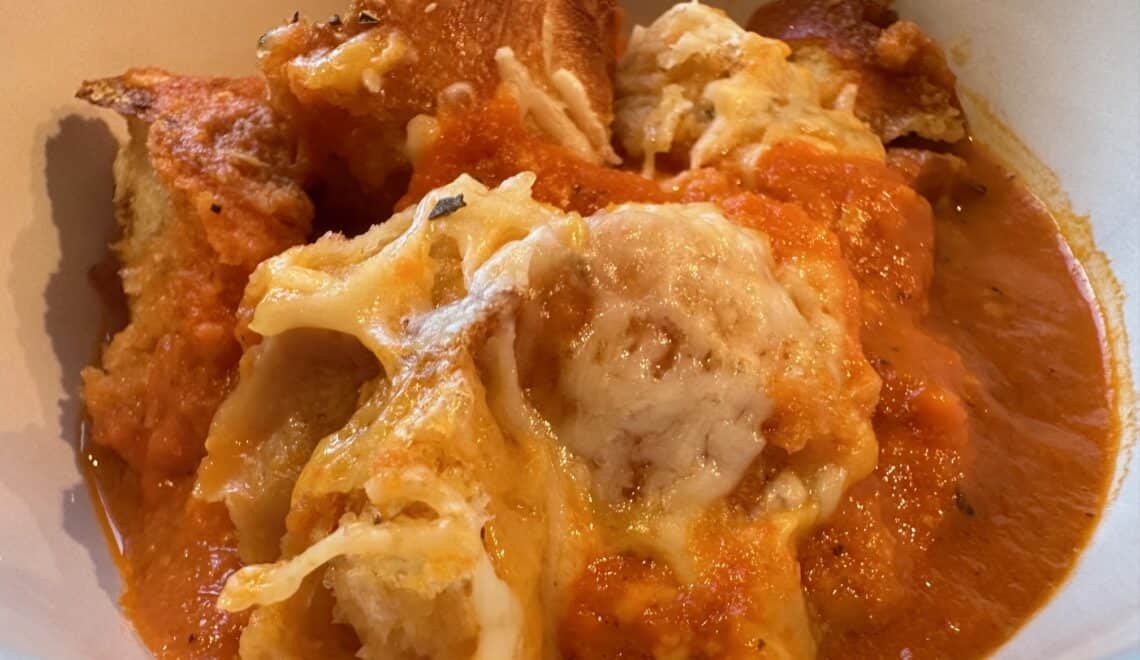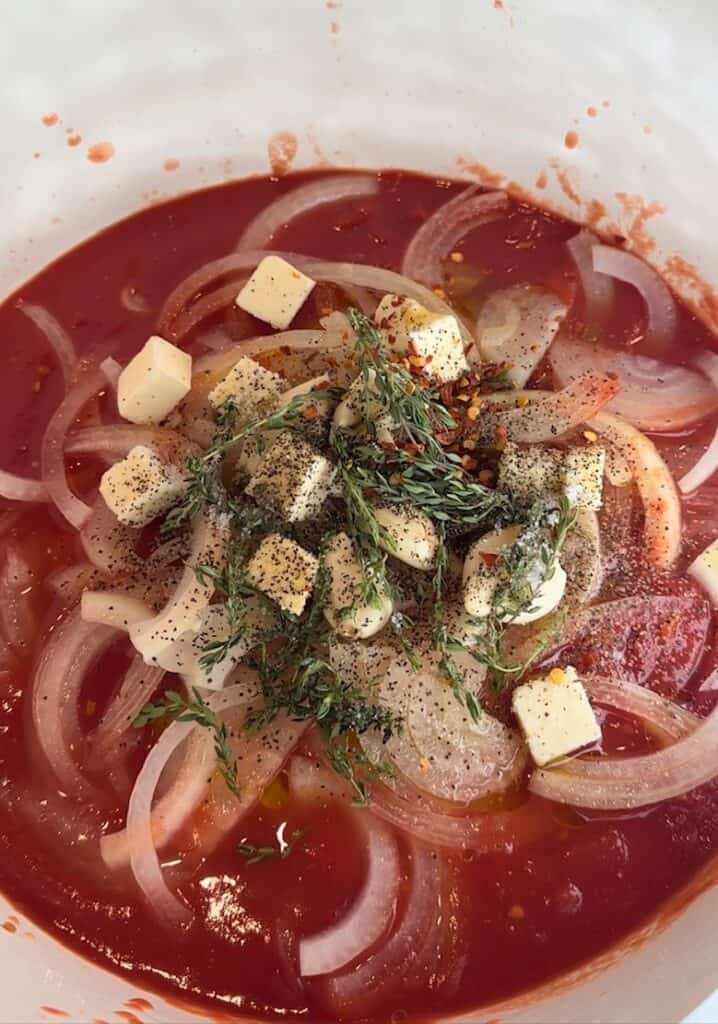 One of my favorite chilly weather combos ever is a good cup of creamy tomato soup with a crunchy, gooey grilled cheese. I have always gone the traditional route of dunking the sandwich into the soup, which will always be a classic move, but I recently stumbled across this unique recipe from Grace Elkus that was featured on The Kitchn website (one of my favorite all around cooking resources) and it had me intrigued. It is quite genius really, why not combine these two treasures in one convenient and heart pot.
To get a feel for it, picture French onion soup meets tomato soup vibe. It has layers of stretchy cheese and the crunch of the croutons fresh from the broiler on top, with pillowy soft bites of tomato soaked bread swimming below. This is a rustic and hearty soup packed full of flavor.
This soup is deceptive because it gives the appearance, heft and mouthfeel of a creamy soup, only it doesn't call for any heavy cream. Isn't it just the best when that happens?! Aside from the cheese, which you can adjust the amount to your liking, this recipe includes an assemblage of healthy ingredients.
Jump to Recipe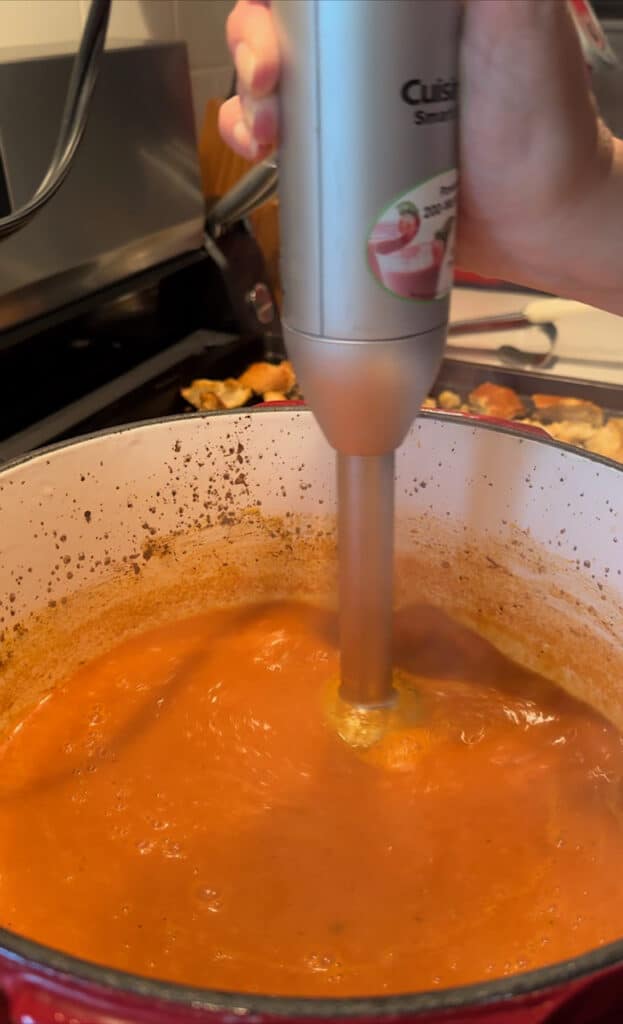 The onions, garlic and thyme roast together to embed a savory bouquet of flavor, and the blending techniques use the veggies to give the soup its thick consistency. This recipe also makes a reasonable amount, as it should be consumed close to when it is made for the best flavor. It yielded two heaping bowls for me and my fella, so it was the perfect amount for a Sunday meal and snacking.
Directly after I graduated from college, I worked for a highly regarded Italian restaurant in Washington, DC named Restaurante i Ricchi. The owner had studied culinary arts in the Tuscan region of Italy proper and prided herself on authentic recipes, which was reflected in the quality of the menu. She regularly featured Panzanella, which is a bread salad, and a soup called Pappa al Pomodoro, which is heavy on tomato soaked bread.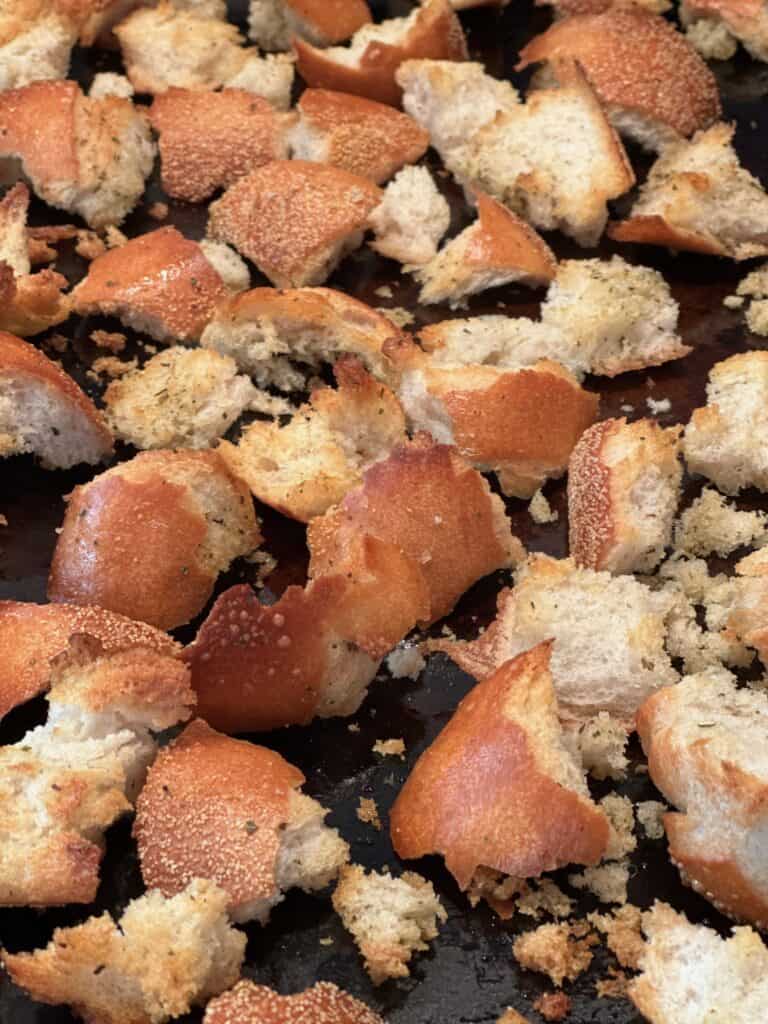 Using bread to bulk dishes up is a very traditional technique in old world cooking. Recipes from earlier days relied on ingredients that were filling and healthy all at once due to limited resources. Many could not afford to purchase great amounts of food or were tasked with using items that they could farm, so it was crucial to use every last bit of what was available and to find creative ways to fill bellies for minimal costs. Bread was (and still is) a sure fire way to do so!
This soup has a very similar texture to a Pappa al Pomodoro, only with a better crunch from adding the bread at the end and allowing it to sit under the broiler to get those additional toasted bits. This recipe would be the absolute perfect choice after a day of sledding, skiing and driveway shoveling in those cold weather months ahead, so be sure to file this one away for a chilly day!
Recipe Notes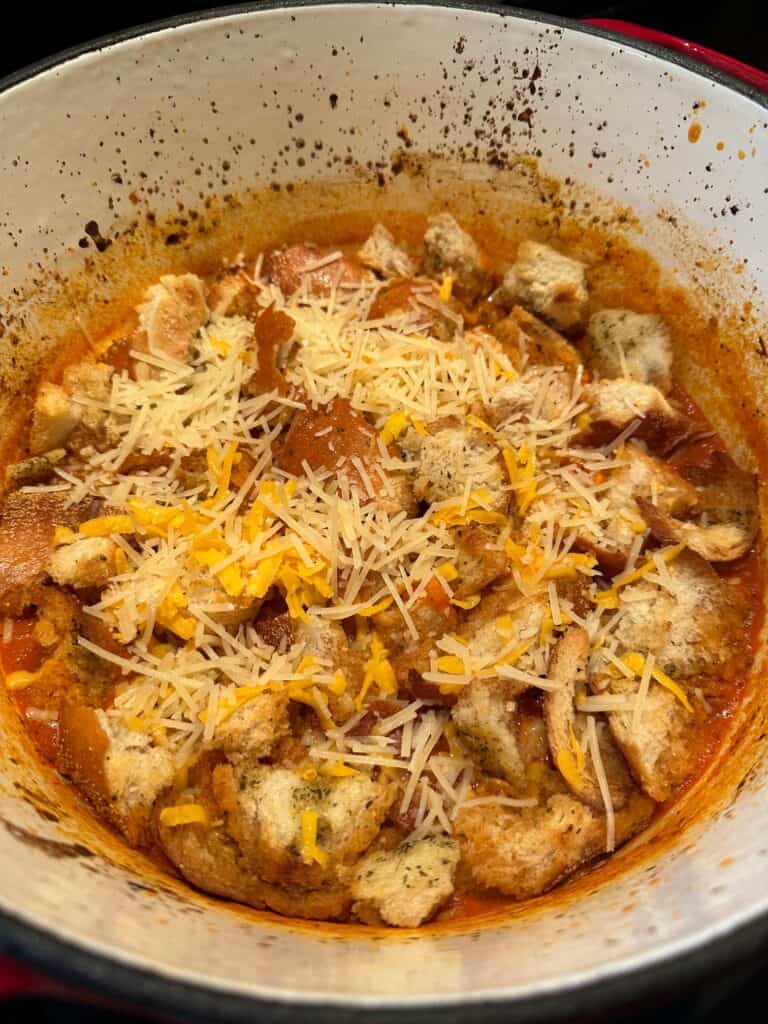 Just a few small notes on this recipe for variations. I ended up using low-sodium chicken broth, because it is what I had on hand and I thought it would add an extra layer of flavor. Always try to make due with what you have in the pantry or substituting something that sounds tasty to you. This recipe can, however, be made completely vegetarian by omitting the cheese (and butter) and using veggie broth. You could even sprinkle a bit of nutritional yeast into the mix to add the cheesy element and flavor. It will have a slightly different finishing consistency, but will be equally as tasty.
The croutons can also be made 3 days in advance and stored in an airtight container. If making the soup in advance, wait to broil with the croutons until just before serving. If you desire that ultra creamy tomato soup, stir in 1/4 cup heavy cream before blending. For a chunkier soup, skip the blending altogether. Just be sure to remove the garlic cloves when you remove the thyme sprigs so you don't chomp down on a whole clove (unless you prefer to do so!).
Lastly, if you have leftovers or plan to serve later, the soup can be stored in an airtight container (without the crouton topping) and refrigerated for up to 5 days, or frozen for up to 3 months. Enjoy!
---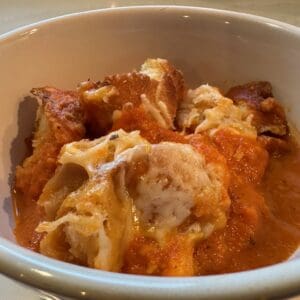 Roasted Tomato & Grilled Cheese Soup
A classic combination of creamy, hearty tomato soup, crunchy homemade croutons and gooey cheddar and Parmesan cheeses to make the perfect chilly day meal.
Equipment
Large Dutch Oven

Immersion Blender/Standing Blender
Ingredients
1

(28-ounce) can whole peeled tomatoes, preferably San Marzano

1

small yellow onion

4

cloves of garlic, crushed

4

tbsp

unsalted butter, divided

4

sprigs fresh thyme, plus leaves for garnish

2

tbsp

olive oil

½

tsp

kosher salt

¼

tsp

black pepper

¼

tsp

red pepper flakes

3

oz

sharp cheddar cheese, grated (about 3/4 cup)

1

oz

Parmesan cheese, finely grated (about 1/2 firmly packed cup freshly grated or 1/3 cup store-bought)

½

tsp

Italian seasoning or dried oregano

8

oz

crusty sourdough bread (about 4 cups)

1

(32-ounce) box low-sodium vegetable broth

1

tbsp

balsamic vinegar
Instructions
Arrange 2 racks to divide the oven into thirds and heat the oven to 425°F.

Empty 1 can whole tomatoes and their juices into a large Dutch oven, then use your hands to gently break apart and crush the whole tomatoes. Prepare the following, adding them to the pot as you go: Halve and thinly slice 1 small yellow onion. Crush 4 garlic cloves. Cut 2 tablespoons of the unsalted butter into small pieces. Place 4 sprigs thyme on top. Drizzle with 2 tablespoons olive oil and season with 1/2 teaspoon kosher salt, 1/4 teaspoon black pepper, and 1/4 teaspoon red pepper flakes.

Roast on the lower rack, stirring halfway through, until the garlic is soft and the mixture is bubbling and noticeably thickened, 40 to 45 minutes total. Meanwhile, grate grate 3 ounces sharp cheddar cheese (about 3/4 cup) and finely grate 1 ounce Parmesan cheese (about 1/2 cup).

Melt the remaining 2 tablespoons unsalted butter in a large bowl. Add 1/2 teaspoon Italian seasoning and stir to combine. Tear 8 ounces sourdough bread into rough 1-inch pieces directly into the bowl (about 4 cups). Use your hands to toss and coat the bread in the butter. Transfer to a baking sheet and spread into an even layer. Bake on the upper oven rack, tossing halfway through, until crisp and golden-brown at the edges, 13 to 15 minutes total.

When the tomatoes are ready, place the pot over medium heat. Stir the mixture to bring the thyme sprigs to the surface (be careful because the pot is hot), then discard the sprigs. Add 1 box low-sodium vegetable broth and simmer, stirring occasionally and scraping up the brown bits on the bottom and sides of the pot, until the flavors have melded, about 10 minutes.

Stir in 1 tablespoon balsamic vinegar. Purée the soup in batches in a stand blender or with an immersion blender directly in the pot until smooth. Taste and season with more salt and pepper as needed.

If needed, move the upper rack to the middle of the oven so the Dutch oven fits under the broiler. Heat the broiler to HIGH. Sprinkle half the cheddar cheese over the soup. Top with the croutons, arranging them in a single layer so they cover the soup. Sprinkle with the remaining cheddar and all of the Parmesan. Broil on the upper oven rack until the cheese is melted, 1 to 2 minutes. Garnish with fresh thyme leaves.