The Healing Power of a Sound Bath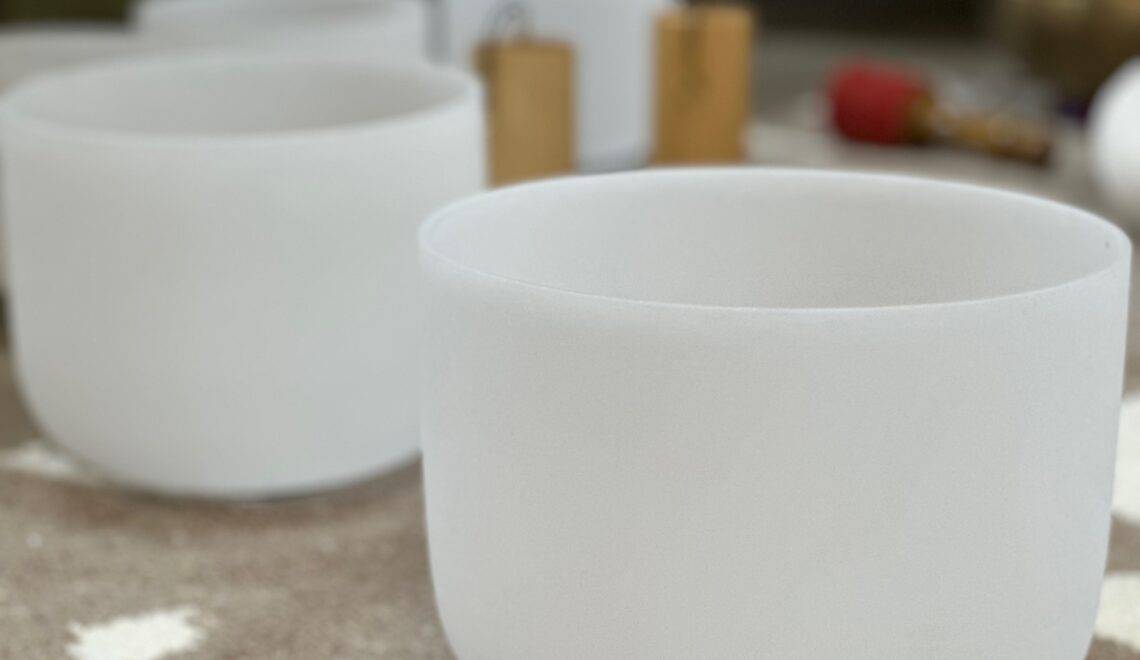 I recently had the opportunity to partake in a sound bath, a meditative exercise that I have been wanting to try for some time now. I would dare to say that the sound bath has become trendy, as it has appeared recently on many television shows and in yoga studios around the country, but it is actually an ancient art, dating back over 40,000 years.
Ancient Greeks used flutes and lyres to treat digestion and mental health, Tibetans used singing bowls for over 2,000 years for meditation purposes, and Australian aboriginal tribes played the didgeridoo to heal the sick.
I admittedly discovered the experience through one of my guilty pleasure shows on Bravo Network that I frequently view (don't judge me too harshly!). A group of ladies on the show ventured on a retreat to a desert resort, where they relaxed and took in the sounds and vibes of this healing art.
This past Saturday, as luck would have it, I received a message from my friend Kim at Southern Botanica in Bluffton, asking if I would like to join in for a morning gratitude and meditation practice. I didn't know the details, aside from the class being led by Reiki master Victoria Cowart from her Richmond Hill based healing practice, Willow Tree Wellness. I have always been a fan of the healing arts and I think we could all use a little more Zen and inward focus, so I quickly and joyfully accepted this invite.
Southern Botanica is a new plant shop on the Island, having opened in Bluffton this past June. The owner is constantly offering cool new classes and workshops, and this was one of them. There is something about meditating amongst a room full of plants that is extra relaxing. So what was it I was walking into? Let me give you a little background.
What is a Sound Bath?
I will first start by giving a quick explanation on the purpose of a sound bath, courtesy of Shanti-Som, as I felt it was the best overview of what the practice entails.
The Experience
I had no idea what to expect, but showed up with my yoga mat, blanket and pillow, as instructed. It was an intimate group of four and we all got situated creating our own cozy little space, lined up in a row next to one another, as Victoria carefully set up her bowls and chimes.
We started with breathing exercises and humming, which she explained helps to disengage and relax the nervous system to let go of anxious energy. We focused on acknowledging gratitude for our bodies and their purpose, and turning our energy and focus inward. Once the sound bath begins, you lay on your mat, close and cover your eyes, and let go. Victoria instructed us to simply 'enjoy the journey,' which I did…thoroughly.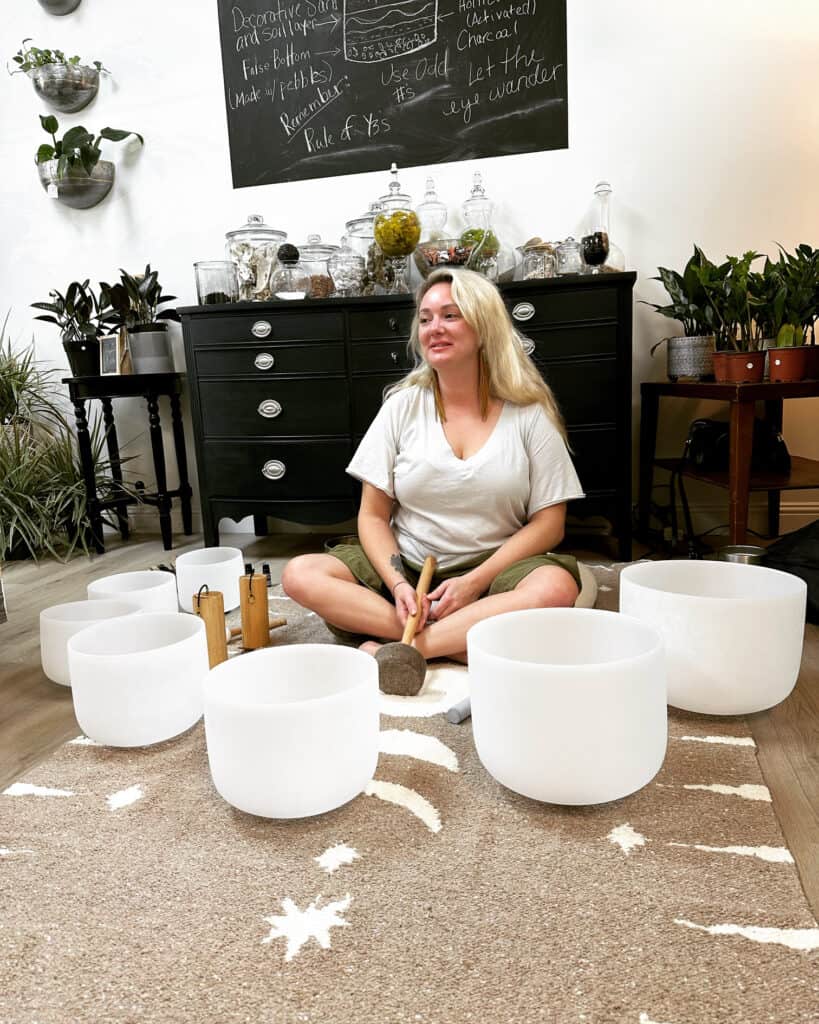 I was blown away, to put it mildly. I had always thought of trying this practice, as it looked like a great form of relaxation to calm the mind, which it was, but the methodical melodies from the bowls and chimes were powerful and entrancing.
There is something so lyrical and soothing about the sounds of the different notes intertwining, and feeling the vibrations run through your body that is trance like.
There was a point during the sound bath where I was so relaxed that I had to focus to move my fingers because my hands felt as though they had become a part of my mat. I was so disarmed that I felt hypnotized. I felt my whole body melt and respond in a way that was so different from anything else I have ever experienced.
I will admit that it was hard at first to let go of the normal thoughts that we allow to run our brains, like "I forgot to get milk at the grocery store, I need to stop and get gas in my car, did I lock the front door?!" You know the ones. But as the sounds built and vibrations hummed louder, I focused on letting go of those thoughts and my mind quickly quieted.
I think from this whole experience, I was most fascinated by the healing aspect that I felt from these sounds. I have always taken part in massage therapy, meditation, chiropractic, stretching…you name it. If it is self care related, I have probably tried it. I love being in touch with and nurturing my body, physically and spiritually. This was something else entirely that I wasn't at all expecting.
As a runner, I have been dealing with injury and chronic pain through my hips and psoas muscle for years now. In the hour that I was in the sound bath, I was able to stretch, relax and let go of the pain, feeling a flexibility that has not been present for years in these areas. I was floored, as I have tried every single thing imaginable to relieve it. Following the session, Victoria informed me that this was quite common, as the vibrations and sounds allow your nervous system to completely let go, opening you up for transformation.
An Element of Healing
I decided to look into the healing aspect a bit more when I got home. Everything I read told me the same. The vibration and rhythmic sounds trigger the brain to let go of your fight or flight response and allow you to dive into a deeper state of relaxation, creating a space where the body to feels at ease to allow for healing at a base level.
Since this experience, for the first time in years, I have been relieved of the consistent pain I was feeling, despite all of my efforts and attempts to control it otherwise. If you would have told me that sound vibration could do that for me on a physical level, I can honestly say I would not have believed you.
I only wish I had learned of this aspect of the sound baths earlier on and I would have taken part much sooner. Now that I know what to expect and the capabilities of this practice, I am downright giddy to do it again.
I can honestly say, if you are in need of feeling recentered, calmer, more relaxed, or need relief from joint and muscle pain, you should really give this a try. The worst that could happen is you come out feeling better in any one of those capacities. These sessions are also a great relief for those suffering from severe anxiety and depression, digestive issues and even insomnia. I know this will be the first of many sessions for me to come in the future.
---
Where to Experience a Sound Bath Locally
Victoria Cowart is a wonderful guide and she is establishing her new business, having just celebrated her first year in her practice. If you have any upcoming events, girls get togethers, retreats, or an occasion where a sound bath fits the theme, I highly recommend reaching out to her. She is happy and eager to travel and share her gifts. For more information and rates, visit her website Willow Tree Wellness or find her contact info here:
Additionally, Move Fitness & Yoga located in the heart of Bluffton, SC, will be holding a Restorative Yoga & Sound Bath workshop on Sunday, October 22, 2023 from 4pm-6pm. The price is $45/per person. Instructor Gloria Owens, will lead the group with two hours of gentle, mindful movement and nourishing restorative yoga , while Beth Donovan of Sol Balance serenades you with the healing sounds of crystal bowls, chimes, drums and other sacred instruments.
This session intends to unravel tension, ease your busy mind and leave you feeling refreshed. You will need to wear cozy clothes and bring along blankets, an eye cover and a pillow, as well as any yoga mats and yoga blocks you may have, as supplies are limited at the studio.
Move will also offer an Aerial Sound Bath session October 13th, 2023 at 7pm, where guests will lie suspended in hammocks for the ultimate in relaxation. Additionally, Instructor Jessica Saraswati will be leading a guided meditation and sound bath in a restorative salt room on Sunday, October 1st at 12pm, in a partnership with Renew Halotherapy and Wellness, a local Bluffton studio that offers healing salt room therapy, penetrating infrared saunas and massage therapy.
There are so many fantastic options to try! Be sure to check out the full schedule to register for upcoming events and yoga/movement classes for all levels.
To register for events and classes with Move Fitness & Yoga Bluffton, visit: https://moveyogabluffton.com/schedule-2/