The Ultimate Lowcountry Soft Shell Experience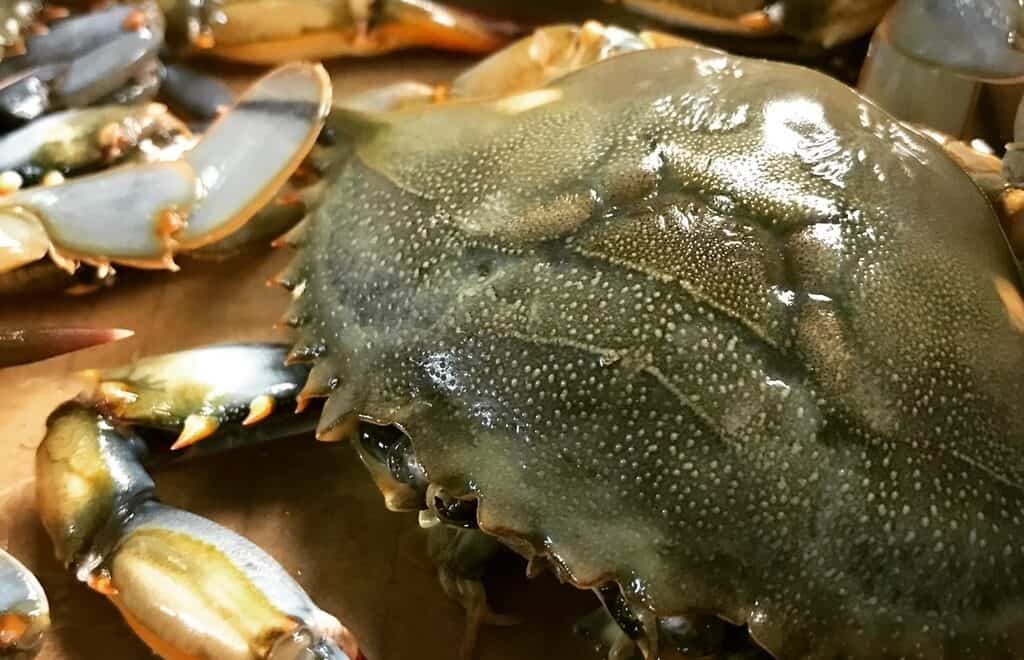 When I first moved to the Lowcountry, I felt like a tourist in a foreign land about some things that seemed to come so naturally to those who grew up here.
I had no idea what traditional Hoppin' John was, nor a hoecake (yes this is a real food, not an insult!). I had yet to learn about rice middlins, or my acquired favorite chicken bog. It took me a few years to realize that I needed pimento cheese in my life as a condiment to just about any food I might eat. I swear that my other half (born and raised in South Carolina) would even eat this tangy cheese spread on a chocolate chip cookie, he loves it so dearly.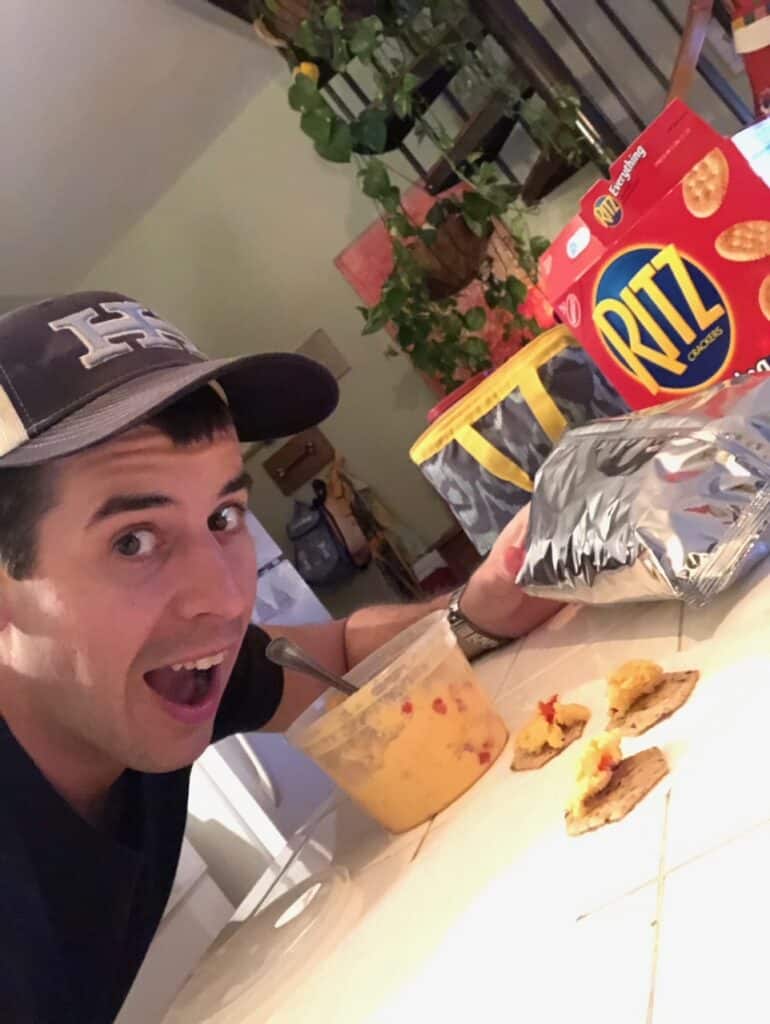 But to-date, far and away, one of the most fascinating phenomena that I have taken part in learning about since moving to SC, is soft shell crab molting. 
I have always been a lover of ecology, something I greatly attribute to one of my favorite teachers, Mrs. Kotler. In third grade she thrilled us with her tales of the natural treasures of the environment and instilled in us a true appreciation for all living things sharing the planet with humans.
She was an avid supporter of the Audubon Society and lover of all things nature related. She was the bravest of souls to plan a massive overnight trip for a large group of marauding third-grade students to Caumsett State Park, located in the northern reaches of Long Island.
The park was incredibly close to the town where I was raised, but felt a world away. This was the first overnight trip I had ever embarked on and turned out to be an incredibly influential moment in time for me.
While there, we took in the history of the park and went on long hikes in the still of the woods to "be" in nature. To this day, I am sure that this trip was a core experience and responsible for forming my initial predilection towards a love of the outdoors. It made a truly lasting impact.
That trip awakened an awareness and inquisitiveness within me of the smallest metamorphoses taking place in the world around us, and I am forever grateful.
Flash forward to my first job here in Hilton Head as a server at Hudson's on the Docks. I am certain that one of the attributes of this job that enraptured me the most was the constant education that we were afforded in order to better speak to our unique culinary offerings with customers.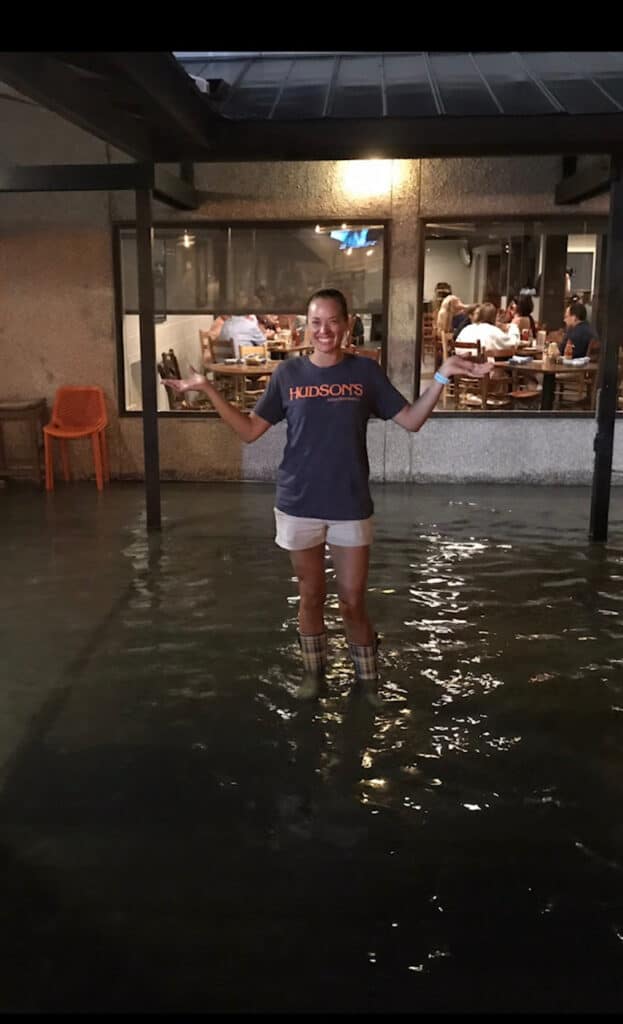 The restaurant takes server education very seriously, so it was not a side note occurrence. We had full-on class sessions in the early morning for hours at a time with the owner of the restaurant. Here, we would learn about the origins of each seafood offering to share with our patrons. In the process, we learned a whole lot about the food we served, where it came from and how it came to be.
During my time working at Hudson's, my buddy Rob manned the soft shell beds. An old salt in the industry, Rob knows about all there is to know in regard to fishing, farming oysters and crabs, where to purchase them and where/how to harvest them.
He was truly a fascinating and hilarious guy and I loved the chance to chat with him anytime I could. He had a sarcastic sense of humor, a constant devilish grin, a wealth of knowledge and not one pretentious bone in his body. He is as authentic as they come and either you liked him or you didn't. It didn't make a bit of difference to him and I always really liked that about him.
Over the years, I was able to observe the whole process from start to finish and learn a ton from listening to Rob. I usually worked in the outside deck area, so at the start of the season, I would witness the guys dragging the crab beds out to the "packing house," as it was known.
When I started there in March of 2016, the packing house was far more utilitarian than decorative. It was a hot, stuffy room where we would all sit as our respite on breaks and between shifts. It had barely any ventilation and was in a state of disrepair.
The packing house got its name from the history of the restaurant, when decades earlier, it was used as an oyster packing plant. Fisherman would row directly up to this appendage of the restaurant and drop off their haul for pay. If you have never been, the photos that remain and the history of Hudson's restaurant are amazing to behold. Take a gander at the old photos on the walls on your next visit.
After Hurricane Matthew ravaged the area in October of 2016, the space was reinvented by the owners. Finally seen for its full potential, jutting directly out on the water, it was decided that the pack house would be transformed into a seated dining area. It is one of my favorite rooms in the whole establishment to this day.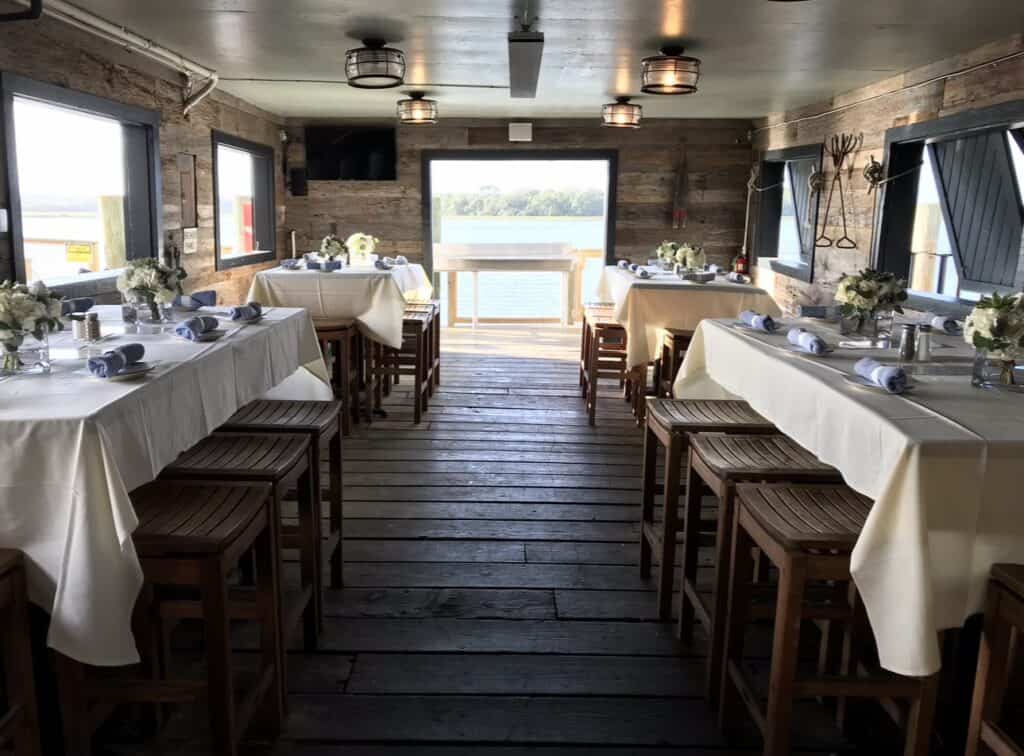 In the early summer mornings when I would finish setting up my section, just before we opened, I would sit adjacent to one of the many picturesque windows in this room, eat my breakfast and soak in the cool breeze off of the water. It is transformative. For this very reason it is mostly used for special events and wedding celebrations.
But in the spring, the pack house has a singular purpose. When it was renovated, it was retrofitted with pipe hookups made especially for crab season. It is set up beautifully to house what I always referred to as the crab "bunk beds," because it is exactly what they look like to me.
The crab beds are essentially small rectangular wading pools. Brackish water is pumped in and circulated to keep the crabs alive in water that they are accustomed to in their own environment. The reason that the female crabs shed their shells at this time is due to a dramatic shift in the temperature of the water as the season turns from winter to spring. It is in that sweet spot, where the cold water grows warmer in the early spring, that mating season begins.
The females come alive and shed their shells as part of the reproductive process. At this time, over the course of a few days, they completely shed their entire exoskeleton. When this happens they are incredibly languid and essentially completely defenseless. It is during this brief period of time that the male crabs are able to mate with the females without the boundary of their shells, while in a vulnerable and accessible state.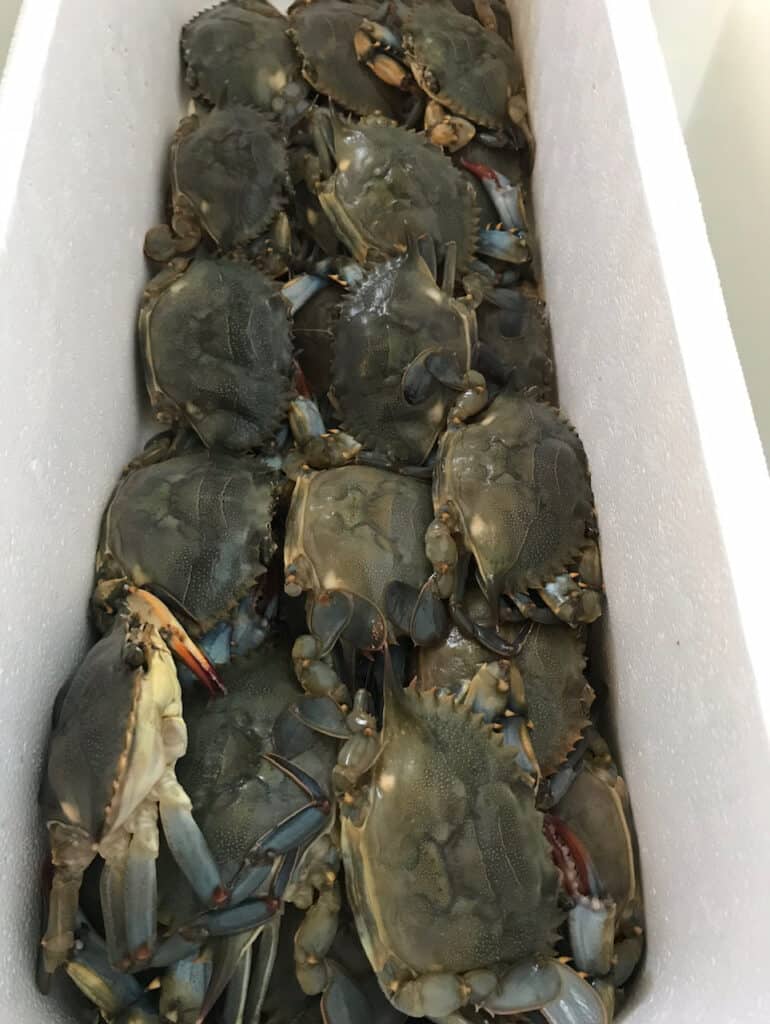 Typically, the females, knowing this is happening, will move to a more protected area in the seagrass or hidden, shallow areas where they are less apt to be attacked or harmed. After mating has occurred, the males will often cover and protect the females, allowing them time to regenerate their shell, which takes only a couple of days to fully reform. Even their claws are wrinkly and soft to the touch during this process. It is one of those times where you realize the truly amazing mystery and power of nature.
As for harvesting, Rob had a tried and true system. You must have a very specific license to harvest soft shell crabs and there are strict regulations around it. Very few "peeler crab" licenses are awarded, so there are really only a handful of folks that can sell them.
Once we received the crabs from this select group of local fishermen, they would be sorted into different enclosures. Some of the beds would house the newly captured "feisty" crabs. When the females are captured and have an awareness that they are beginning the molting process, they become quite nervous and defensive. In other words, watch your fingers! They will pinch.
Within the beds, you will always find at least one male crab. We call him the "rooster in the hen house" because his sole job is to stimulate the molting/reproductive process for the female crabs simply by his presence. The old pheromone ruse, if you will. He is usually easily spotted due to his size and demeanor.
You can spot the females that are low-energy and can actually begin to see them backing out of their shells. As they do this, they expand to almost twice their size, without the conformity of their rigid shells to hold them in and they look plump and inflated.
At this point, Rob would shift them down the line to the "quiet" beds, much like the cars you find on the Amtrak train, where they could relish the peace without disturbance until fully molted.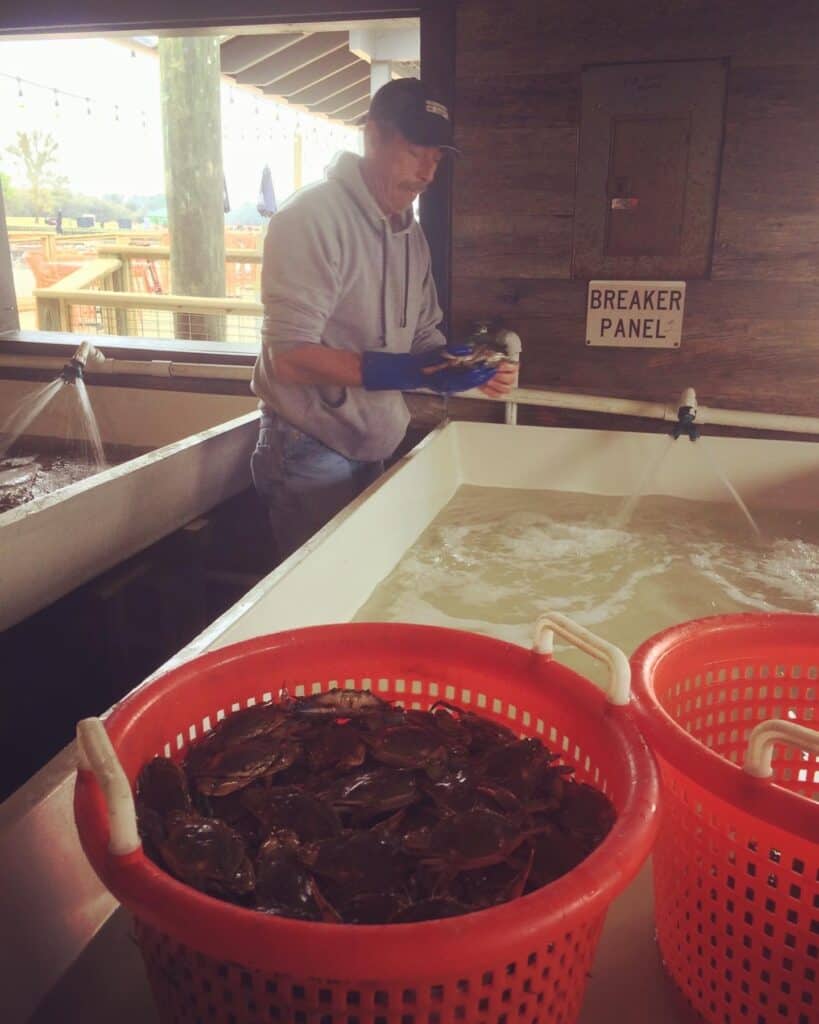 Now this is the part of the process that requires extreme vigilance. Rob and his cohorts would take shifts monitoring the crabs 24-hours per day for about a month's time while the soft shells were in season. As soon as a female completely detaches from her shell, it is crucial to remove or "pull" the crab from the water immediately. If you were to wait even an hour, she would have already begun to reform a paper thin shell over her organs. It happens that fast!
Given that the entire lure of the soft shell delicacy is the absence of any shell whatsoever, it is required that they are monitored closely and removed from the water at precisely the point that full molting is complete. No one wants to bite into a shell at any stage. After a while, you can begin to easily identify the crabs that are ready for removal with a quick scan. They move very little and you can actually, most times, pull the remainder of the shell from their bodies with a gentle tug and no resistance.
We have moved to the final edge of the soft shell season by now, but if you have yet to experience it, this is a can't miss process, whether you are living or visiting here during this brief and exciting time.
Hudson's prides itself on an immersive Lowcountry experience for visitors and residents, inviting all of the latter to step into the packing house for an interactive tour of their unique operation. Many restaurants serve soft shells, but this is the only place I know of where customers can witness and learn about them in a natural, hands-on setting.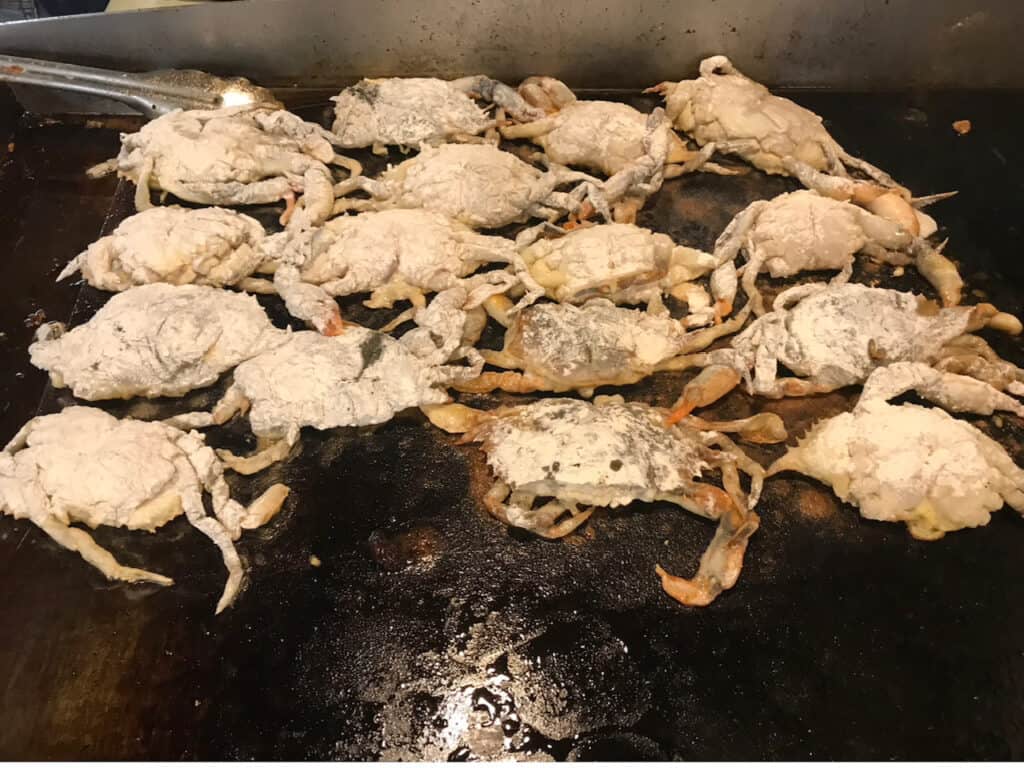 Of course, once you are done with the tour, you can try them out in just about any form of breakfast, lunch or dinner meal you can think up. I highly recommend the soft shell eggs benedict on a Sunday. But…get there early because they sell out fast once the word gets out they have arrived.
It is truly a magical experience to know that the food you are eating is local, to see where your food comes from, and to witness the process of harvesting and handling it before it reaches the plate. It is a costly and time consuming operation that Hudson's maintains each year, purely for the enjoyment of its treasured guests. As foodie experiences go, it doesn't get more farm to table than this!