Turkey & Kielbasa Three Bean Chili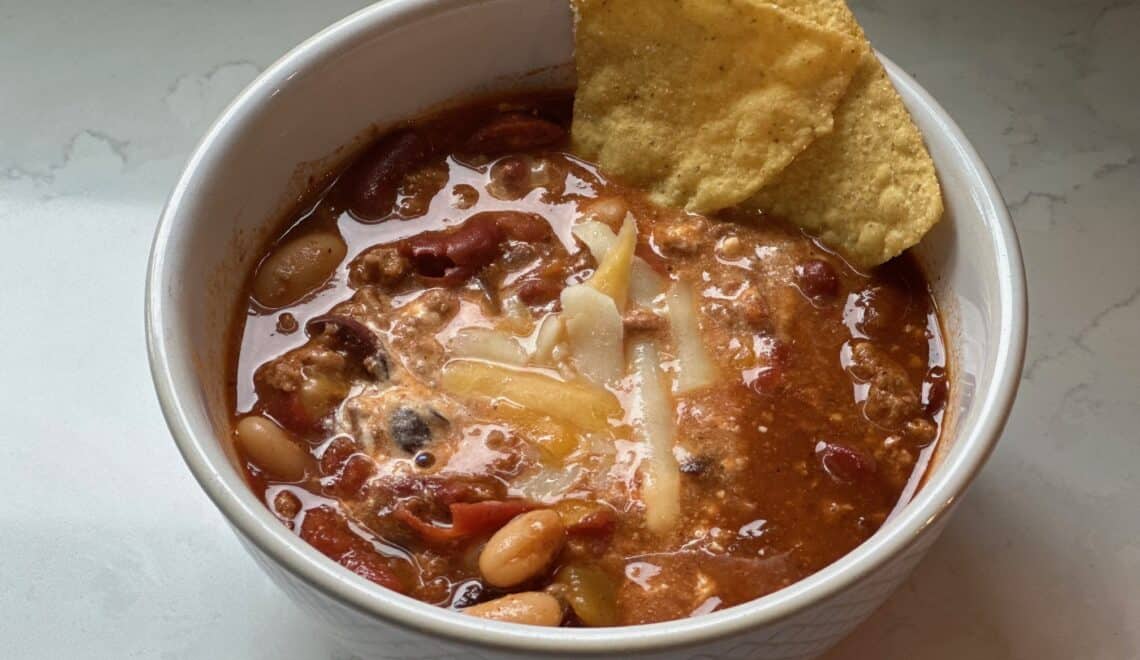 It's chili season!! One of my favorite times of year, hands down. The days get a little shorter, the weather is a little chillier at night and it is my queue to start making giant pots of chili to eat and freeze for the cooler months.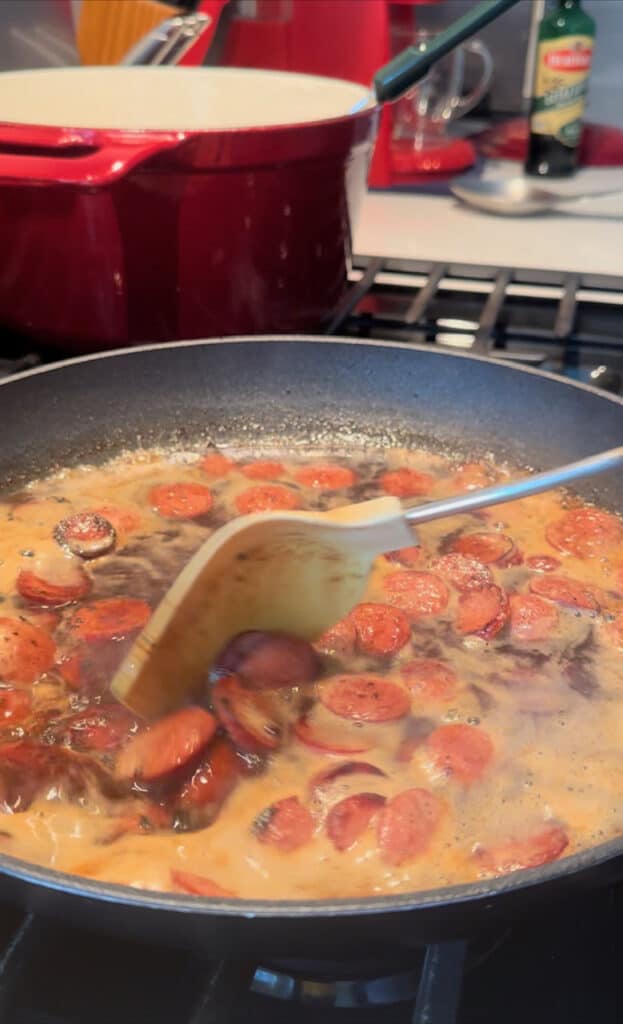 Everyone seems to be on the hunt for a really good recipe for chili. I have always been one of those people too. Back in 2009, I finally decided to start testing different recipes to see which appealed to me most and create my very own version.
I feel that a "good chili" is personal and really lies in the eye of the beholder. We all have our own likes and tastes, but I feel that this recipe is one that will please chili novices and connoisseurs alike. Not to brag (brushes shoulders), but this recipe has won more than one inter-office chili cookoff against some fierce and worthy competitors.
Ingredients & Tips
As I mentioned, I tried out several recipes and flavors to land on this concoction. It has been my tried and true go to chili for over a decade and is a true one pot wonder. This is the perfect excuse to break out that Dutch Oven and put it to good use, or a nice big stock pot will do. Make sure that whichever vessel you choose, it has a heavy bottom on it to avoid burning your chili over the continuous heat you will be applying in the cooking process. Once you complete minimal prep and throw it into your pot of choice, it will sit on the stove and meld flavors, doing its magic without much supervision.
Jump to Recipe
There are so many varieties, all of which have their place. You could use real ground beef and kielbasa for an oilier chili, but my version is a bit healthier, as it calls for both ground turkey and turkey kielbasa.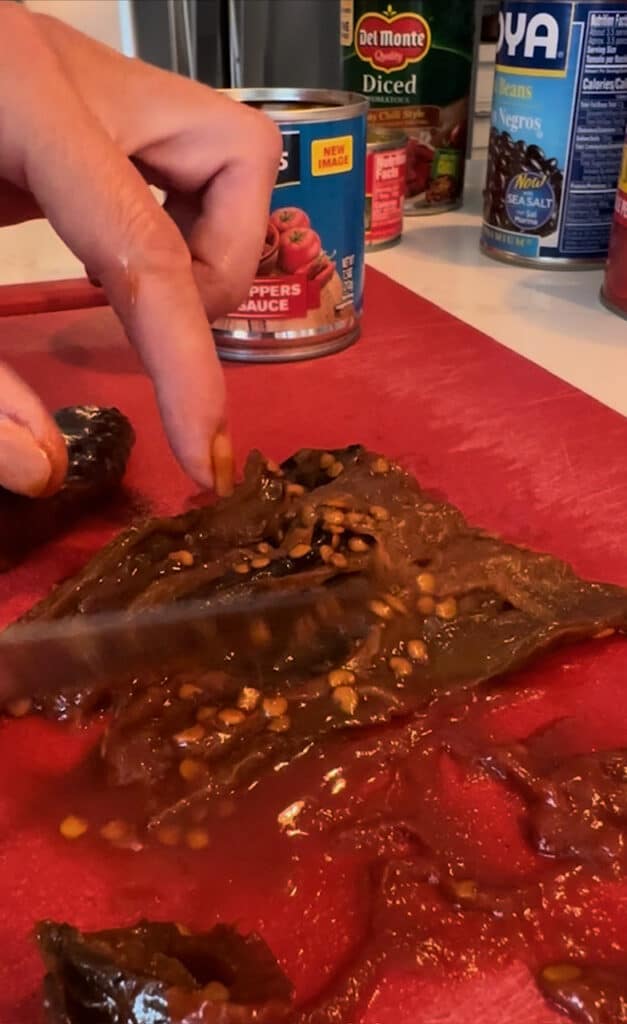 Don't let this chili fool you! The healthier meat options don't take away an ounce of heartiness due to the lower fat content. The addition of good, rich olive oil and chipotle peppers in smoky adobo sauce give this recipe a super hearty and savory flavor profile that ensure you don't feel that it is missing anything by the way of taste and richness. I find San Marcos brand peppers to be the best of the bunch for this step. They use quality peppers and the adobo sauce has the richest flavor in my book, but you can use whichever brand appeals to you.
Very important note. Take the time to deseed your smoky chipotle peppers!! Unless you like extreme heat, this will ensure that your chili doesn't burn your insides with heat. If that is your thing, more power to you. I tend to make my chili on the milder side so that everyone can eat it and build heat to their liking. This keeps all of my guests happy and full. Just remember, the amount of seeds you add is directly proportional to how atomically hot your final result will be. Do what you will!
Another note of importance is to be sure that you DO NOT touch your eyes after handling these chipotle peppers until you thoroughly wash your hands. I have overlooked this rule and can tell you from experience, boy does it burn.
Additionally, this recipe calls for Sam Adams Octoberfest beer. You can leave this out completely if you don't care for it, but the alcohol cooks off and evaporates, leaving a deep flavor that takes the chili to the next level. I add one bottle to the finished chili. I also add a bottle while cooking the kielbasa to infuse extra flavor into the meat, as well as to help deglaze all of the yummy burnt bits from the pan. These add a great boost of flavor to the chili as well.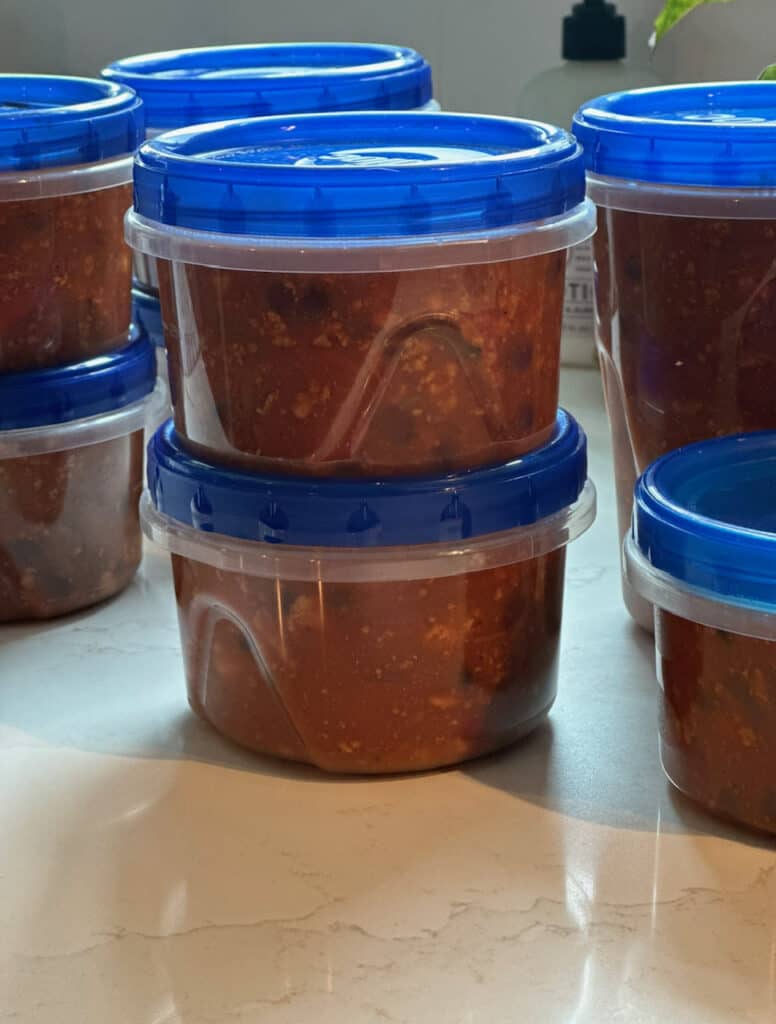 I know this is a very specific beer, and you could certainly use a different selection, but this one tested as the best of the bunch over the years after lots of trial and error. It is tempting to use an IPA, but I find they add too much of a bitter aftertaste, so I suggest against them. I realize that this particular brand is only available for a short while, so if you are making your chili outside of the spooky season, a good hearty brown ale will also do the trick, like Brooklyn Brown or similar.
As for the meat, I call for Hillshire Farms Turkey Kielbasa. I have tested all different kinds, as well as store brands, but none tasted as good as the HF brand in terms of flavor and texture. It is totally up to you if you use that brand or not, but you want to be certain that you use the 85/15 blend in terms of the ground turkey, not 93/7. This is a crucial tip. The extra bit of fat in the 85/15 helps with the flavor and the texture isn't as dry and chewy as its counterpart. Don't be tempted by the lower fat version!
This recipe makes a LOT of chili, so be forewarned. You can easily feed a huge family or party off of this pot and still have plenty of leftovers. I recommend picking up the smaller pint sized Ziploc Twist n' Lock containers so that you can freeze and remove in smaller portions for an easy weeknight meal.
Remember to let the chili cool completely before placing in containers, and don't fill them completely to the top, as the chili will rise and expand a bit once frozen. If you try to place hot chili in an air tight container in the freezer, the top will literally shoot off the top from the pressure. It's wild! Don't make that messy error. I have also made the rooky mistake of filling the container to the top in the past, only to find the top popped off during the freezing process and left my chili freezer burned, so this is also important.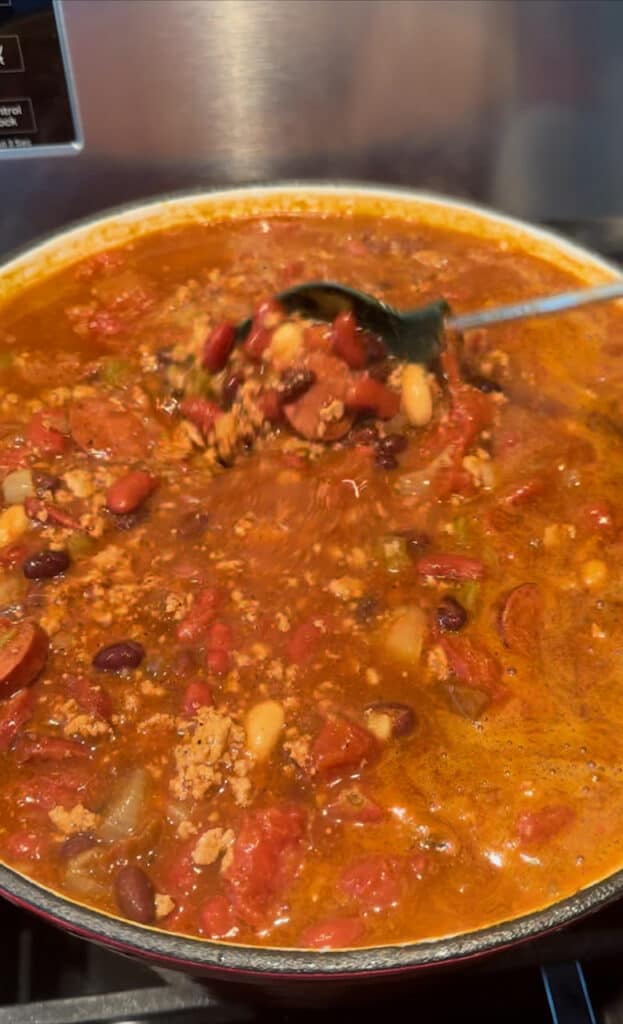 The chili lasts up to roughly six months in the freezer, though it generally doesn't last that long in my house. Anytime I don't have a plan for dinner or I am short on time, I take a container or two out in the morning and place in the fridge for an easy reheat at dinner time.
I actually think that the chili tends to taste even better after freezing, as it incorporates all of the flavors better and lets the spices sink into the meat and beans. Two pint size containers is a perfect two person serving, while one container is perfect for a meal for one.
As always, I recommend a good hearty slice of sourdough on the side for dipping. I choose sourdough because it is the perfect blend of soft and chewy to soak up the liquids, and it has many added benefits for gut health. I also really love some good, fresh tortilla chips served up alongside for dipping, especially to catch the gooey cheese topping. Simply delicious.
Enjoy and please comment below to let me know how yours turns out!
---
Turkey & Kielbasa Three Bean Chili
This hearty one pot chili recipe calls for healthier ingredients, but doesn't sacrifice any of the flavor. With the heat and savory chili elements, a salty punch from the kielbasa, the richness of olive oil and heartiness of the beans, this is the perfect recipe for a cozy fall or winter day.
Equipment
Extra Large Stock Pot/Dutch Oven

(needs a heavy bottom)

Large Frying Pan

Cutting & Stirring Utensils

Can Opener

Soup Ladle

Ziploc Twist and Lock Containers
Ingredients
1

13 oz

package Hillshire Farms turkey kielbasa

1

3 lb

package 85/15 ground turkey meat

1

4 oz.

can diced green chilis

1

7.5 oz

can San Marcos chipotle peppers in adobo sauce

1

15.5 oz

can cannellini beans

1

29 oz

can kidney beans

2

15 oz

cans reduced sodium black beans

1

14.5 oz

can zesty chili style diced tomatoes

1

29 oz

can whole peeled San Marzano tomatoes

1

24 oz

jar tomato sauce

1

medium yellow onion

3

large cloves of garlic

2

bottles Sam Adams Octoberfest – or- Brown Ale

optional

olive oil

Chili Powder

to taste

Texas Pete Hot Sauce

to taste

pepper

to taste

garlic powder

to taste

non stick cooking spray
Toppings
thick cut jack and cheddar blend cheese

sour cream

tomatoes

avocado

tortilla chips

sourdough bread
Instructions
Peel and dice garlic cloves, set aside in a small bowl.

Dice onion and set aside in a small bowl.

Deseed chipotle peppers in adobo sauce and slice in small pieces. Set aside and wash your hands, being careful not to touch your eyes while prepping.

Slice turkey kielbasa in bite size pieces (about a 1/2 inch), set aside.

Add non-stick cooking spray to a large skillet. Add in ground turkey meat and sprinkle with pepper, chili powder and a small amount of garlic powder, to taste. Brown the meat on medium-low temperature.

While the ground turkey cooks, place your pot or Dutch Oven on a small burner on low heat. Liberally add olive oil as a base, enough to coat the entire bottom of the pot. Add diced onions and mix with the oil. Allow to soften while the meat continues to cook.

Once browned, remove ground turkey from heat, drain and set aside.

Add diced garlic to pot with onions and give it a stir. Allow to sit for thirty seconds to activate the garlic without burning it.

Add in browned turkey meat and stir.

In the same skillet you used for the turkey, add a layer of non stick cooking spray and then add in kielbasa. Allow to simmer on low-medium heat until they begin to brown. Give them a stir and add in one bottle of Octoberfest beer. Allow to simmer on low heat for about 10 minutes.

Once kielbasa has simmered, add to the pot with the browned turkey meat, onions and garlic (beer and all) and give it a stir.

Next add in the rest of the ingredients, including green chilis, beans, tomato sauce, whole peeled tomatoes, chipotle peppers and remaining Octoberfest beer.

Sprinkle chili powder over the top, seasoning to your liking (about 1-2 tablespoons), as well as dashing in hot sauce to your heat preference (I use about 7-10 dashes).

Mix together and allow to sit on low heat, stirring occasionally for about an hour. (Do not adjust from low heat or it tends to boil and burn.)

Serve with cheddar cheese, sour cream, avocado, tomato, tortillas or bread. Enjoy!